Crochet Baby Sampler Afghan + Tutorial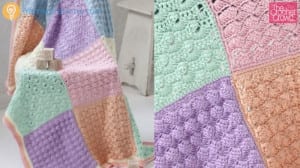 Baby Sampler Afghan
This Crochet Baby Sampler Afghan is not very hard to do. It has 4 squares that are different but looks like a lot more as there are different colours being used throughout the afghan. There is a total of 12 squares in all.
I have completed 5 tutorials for this particular afghan. The written instructions has the blocks divided up by block 1, 2, 3 & 4. There is a separate tutorial for each as all of the squares make for interesting stitches that you can use in other projects if you wish. For example, you could do large afghans or other projects using just one of the stitches you see within this project.
Video Tutorials Are Below
All 4 blocks and a finishing walk through video.
Tutorials are in order of Block 1 to Block 4. Left hand videos are on the left… Right handed videos are on the right. Finishing tutorial is at the bottom.