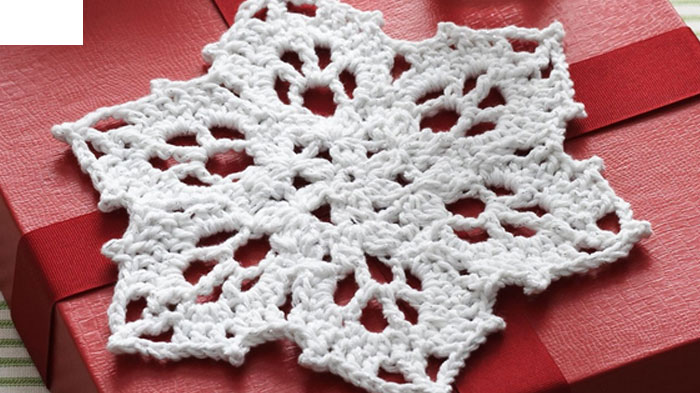 Crochet Snowflake Blizzard Exhibit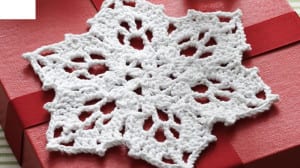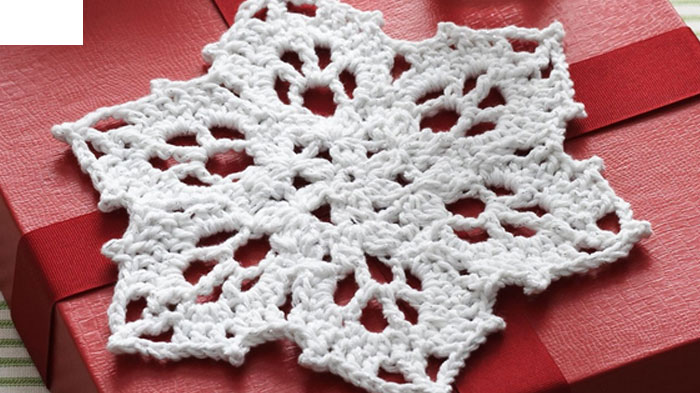 Crochet Blizzard Exhibit by Diva Dan
Diva Dan is asking for the help of The Crochet Crowd to construct the next element of the Creativ Festival Show Exhibit.
With The Crochet Crowd teachings and what we do being free to you all. We would love the help to establish this amazing exhibit.
As you may already know, about 30,000 guests walk through Creativ Festival and we have a history of creating incredible yarn-tastic themes for this show. The preparation work is intense.
The Theme
This year's theme is a Winter Wonderland! Diva Dan is looking for crochet snowflakes! Lots of them! Even in July! His plan to build a full size igloo to dazzle the 10's of thousands that attend the show! We need your help and would love it if you have some spare time.
The Plan
Crocheters are invited to participate in contributing to our exhibit as a representation of Crochet Crowders.
The snowflakes will be made as part of the full size igloo and other strategic snowflake placements throughout the exhibit.
Swarovski Elements has sponsored the exhibit by donating crystals to be incorporated within the snowflakes and more throughout our exhibit. Imagine a Northern Light Exhibit with the light passing through your snowflakes with crystals on them.
Restrictions
Please use only solid White, Off White or Cream Coloured Yarn Only.
We ask you do not submit any other colours.
No starching your snowflakes.
Free Choice
You can use any snowflake pattern you wish.
You can use any size crochet hook you want.
Your yarns can be sparkle or sequins based. Please follow the colour restrictions for the main colour to be either white, off white or cream colour.
You can use thread yarn.
You can use cotton yarn.
You can use acrylic yarn.
You can use fibre blends or animal fibers.
You can make up your designs by free forming.
The snowflakes can have a multiple points such as a pentagon, hexagonal, octagon or other. That's up to you.
You can apply 'ice like' colour beads with your snowflakes.
Free Patterns To Consider
If you are stumped and need help to find a free pattern. Daniel has located several sources.
Final Words
Please be kind and weave and tuck in your tails or ends into your project.
This article will serve as a contributors list. As your donations come in, we will acknowledge your name below. Thank you so much for your help.
Mailing Address
Please send your Snow Flakes in to the following address via regular post services:
The Crochet Crowd Studio
10 Mullen Drive, PO BOX 473
Walkerton, Ontario Canada
N0G 2V0
All Donations should be received before September 30, 2015. The show is on October 17th and we need time to apply your snowflakes to the exhibit decor.
For those sending to Canada, please declare your snowflakes as a gift and do not declare them over $40. These are considered a donation.
Do not send via courier such as Fedex, UPS or other. The customs processing, even as a gift costs us approximately $50 extra to receive your package. Couriers will be rejected and sent back to you as your expense. Please only send through regular mail services. Besides, regular postal services are much cheaper.
Snowflake Contributors
In order in which they are received.
12 snowflakes from Brenda Bozso, Ontario
1 snowflake from Becky Livick, Wisconsin
12 snowflakes from Dianne Peck, Ontario
5 snowflakes from Tammy Konth, Maryland
3 snowflakes from Cissy Gautier
5 snowflakes from Tammy Rinney, Alabama
4 snowflakes from Leslie Sandau, California
14 snowflakes from Ann Ring, Great Britain
6 snowflakes from Elizabeth Shaw, Texas
40 snowflakes from Caroline Tremblay, Quebec
17 snowflakes from Amber Esau, Ontario
6 snowflakes from Phyllis Sparks. Ontario
5 snowflakes from Mrs. Heather Zaharia, Saskatchewan
6 snowflakes from Tracy Thompson, Texas
6 snowflakes from Janet Sechelski, Texas
22 snowflakes from Cathy Lewis-Williams, Idaho
1 snowflake from Charlene Arsenault, Ontario
1 snowflake from Doreen Beck, Idaho
2 snowflakes from Cheryl Tate, Virginia
30 snowflakes from Dianne Johnson, Texas
12 snowflakes from Linda Swanson, Indiana
100 snowflakes from Pam Erickson, Illinois
6 snowflakes from Kimberly Christiansen, New York
10 snowflakes from Heather Hood, Florida
12 snowflakes from Donna Sheldon, Ontario
38 snowflakes from D Wong, Ontario
6  snowflakes from Susan Jackson, Texas
7 snowflakes from Jennifer White, Ontario
7 snowflakes from Paula Bostick, Florida
12 snowflakes from Dianne Chuckle, Delaware
19 snowflakes from Lynn Vars, Utah
2 snowflakes from Donna Bondy, Ontario
17 snowflakes from Susan Owen, Florida
4 snowflakes from Karen Ellis, Ontario
1 snowflake from Paula Hamilton, Indiana
12 snowflakes from Ann Barvy, Queensland Australia
5 snowflakes from Diane Street, Northampton United Kingdom
120 snowflakes from Tammy Nagle, Ontario
20 snowflakes from Barbara Jacobs, Illinois
4 snowflakes from Alison Stagg, Ontario
10 snowflakes from Paula Rud, Texas
4 snowflakes from Cindy Charters, New Brunswick
14 snowflakes from Lynn Gill, Georgia
10 snowflakes from Nicole Dagenais, Quebec
2 snowflakes from Peggy Giorgini, Delaware
25 snowflakes from Carol Martin, Pennsylvania
30 snowflakes from Cathy Lewis-Williams, Idaho
112 snowflakes from Diane Suder, Texas
12 snowflakes from Robin Comfort, Virginia
14 snowflakes from Heather Oliver, Alberta
100 snowflakes from Linda Zerillo, Florida
15 snowflakes from Kathryn Saunders, California
12 snowflakes from Mildred Coveleski, Florida
24 snowflakes from Jeanne Steinhilber, Indiana
12 snowflakes from Cindy Hull, Florida
12 snowflakes from Sharon Brewster, New Hampshire
4 snowflakes from Sarah Hart, Alberta
12 snowflakes from Janet Jackson, South Carolina
14 snowflakes from Diane McGregor, Texas
14 snowflakes from Louise Voisey, Wiltshire, England
14 snowflakes from Shirley Hanes, Idaho
26 snowflakes from Chrissy Sherril, North Carolina
4 snowflakes from Marie Woodman, Michigan
27 snowflakes from Marg Stilson, Ontario
7 snowflakes from Harmony Biggs, Illinois
12 snowflakes from Alan Lenton, Pennsylvania
30 snowflakes from Lisa Kemp, Ontario
9 snowflakes from Cathy Costino, New Jersey
10 snowflakes from Sandra Elliot, South Carolina
9 snowflakes from Kim Beers, Florida
13 snowflakes from Erica Sutten, South Carolina
18 snowflakes from Eileen Zynosky, Georgia
8 snowflakes from Helga Kress, Ontario
3 snowflakes from Claire Carrano, Connecticut
18 snowflakes from Karla Sonksen, Indiana
11 snowflakes from Kathy (AKA Nancy) White, California
2 snowflakes from Debbie McDonald, Georgia
12 snowflakes from Gwenda Miller, Queensland Australia
10 snowflakes from Donna Roach, Saskatchewan
12 snowflakes from Trudy Griffioen, British Columbia
14 snowflakes from Antoinette Lau, Michigan
4 snowflakes from Reyna Andrel, Alabama
12 snowflakes from Jenae Ryan, Kansas
4 snowflakes from Debi Cristiano, Florida
6 snowflakes from Rhonda Jozefowicz, Ohio
10 snowflakes from Lynda Richardson, Pennsylvania
60 snowflakes from Denise Ellis, Ontario
15 snowflakes from Brenda Hill, North Carolina
2 snowflakes from Amanda Izzard, Ireland
10 snowflakes from Teresa Graham, Ontario
10 snowflakes from Marg Herbert, Illinois
30 snowflakes from Jennifer Johnson Wigan, England
5 snowflakes from Donna Fournier, Maine
59 snowflakes from Kate Johnson, Tennessee
16 snowflakes from Barbara McMahan, Wisconsin
28 snowflakes from Brittany Keding, California
10 snowflakes from Cheryl Funkhouser, California
25 snowflakes from Antonella Deevy, Ontario
12 snowflakes from Lynn Schroth, Iowa
14 snowflakes from Joan Wieliamf?, Ontario. (Joan your writing is BEAUTIFUL but I could not make out your last name)
6 snowflakes from Lisa Hazelwood-Goudie, Ontario
1 snowflake from Deborah Stewart, Tennessee
25 snowflakes from Marilyn Cantu, Texas
75 snowflakes from Carin Jansen, Netherlands
24 snowflakes from Rhonda Lankey, Missouri
50 snowflakes from Helen Bloom, Ohio
104 snowflakes from Brenda Cain, Michigan
12 snowflakes from Cathy Rogers, Ontario
1 snowflake from Fionna Fernandaz, Australia
14 snowflakes from Mary Bavvett, Ireland
10 snowflakes from Christine Girard, Quebec
1 snowflake from Kelly Coent, Alberta
4 snowflakes from Daisy Loomis, Arizona
19 snowflakes from Evelyn Munro, Ontario
6 snowflakes from Crystal Rose, British Columbia
26 snowflakes from Joanne Seiple, Ohio
3 snowflakes from Connie Hoffman, Ontario
6 snowflakes from Lily James, New Jersey
1 snowflake and 10 icicles from Brenda Benninger, California
15 snowflakes from Kathy Barrell, Ontario
2 snowflakes from Iris Snid, Netherlands
6 snowflakes from Natalie and Kiki Dedona, Ontario
6 snowflakes from Jamie Crisp, Missouri
4 snowflakes from Sophie Lepage, Quebec
12 snowflakes from Mary Simmons, Ohio
32 snowflakes from Lisa McCaul, Ontario
23 snowflakes from Pam Erickson, Illinois
12 snowflakes from Kendra Hallman, Ontario
8 Snowflakes from Monika Bah, United Kingdom
4 snowflakes from Cyndi Miller, Michigan
6 snowflakes from Nancy Richey, Iowa
21 snowflakes from Sheri Carde, Ontario
13 snowflakes from Lisa Ball, Virginia
25 snowflakes from Vivien Bichette, Illinois
17 snowflakes from Yvonne Landry, Nova Scotia
10 Snowflakes from Jay Griffin, Georgia
18 snowflakes from Danna Dyer, Ontario
 8 snowflakes from Calla Brice, Ontario
14 snowflakes from Rachel Stephenson, Australia
10 snowflakes from Devon Danner, North Carolina
30 snowflakes from Kathy Virgil, California
20 snowflakes from Sue Mariner, Ohio
24 snowflakes from Rieko Cohn, California
31 snowflakes from Heidy Uno, Hawaii
13 snowflakes from Jen Zimmer, Ontario
17 snowflakes from Sandi Bower, Arizona
172 snowflakes from Dela Wilkins, British Columbia
23 snowflakes from Amanda Maass, Ontario
20 snowflakes from Maire Montville, New Hampshire
100 snowflakes from Judy Chambers, Ontario
24 snowflakes from Liz Wisner, California
20 snowflakes from Elizabeth Shaw, Texas
44 snowflakes from Kelly Wilson, Ontario
8 snowflakes from Pat Bruderer, Manitoba
7 snowflakes from Jeannie Seppala, Ontario
6 snowflakes from Evelyn Fisher, Pennsylvania
6 snowflakes from Kathleen Gerardi, New York
8 snowflakes from Barbara Roman, Maine
6 snowflakes from Willow Ciarrochi, Missouri
19 snowflakes from Rebecca Waterman, Texas
13 snowflakes from Nancy Griffin, Missouri
9 snowflakes from Kathy Dilley, Illinois
16 snowflakes from Gladys Dannelly. California
100 snowflakes from Susan Larson, California
47 snowflakes from Jay Browning, Florida
33 snowflakes from Maria Martin, Ontario
35 snowflakes from Sinta W. Mawardi, Jakarta Indonesia
12 snowflakes from Ann Schneider, Ontario
10 snowflakes from Sandra Harper, California
20 snowflakes from Sarah Mathias, North Carolina
60 snowflakes from Vivian Cray, Ontario
22 snowflakes from Susie Geer, Texas
17 snowflakes from Moira Ferris, Australia
9 snowflakes from Maran Youngson, Ontario
8 snowflakes from Nancy Thorson, Ontario
26 snowflakes from Marie Whitehead, Pennsylvania
6 snowflakes from Terry Goblet, Ontario
26 snowflakes from Maine Mathery, texas
3 snowflakes from Mandip Singh, Ontario
10 snowflakes from Tammy Baker, Ohio
40 snowflakes from Bernice Bacon, Georgia
14 snowflakes from Cathy Lewis-Williams. Idaho
70 snowflakes from Susan Hammond, Maine
30 snowflakes from Donna Weiss, New Jersey
6 snowflakes from Kim Fox, California
11 snowflakes from Jennifer Nolte, California
8 snowflakes from Kim Caruthers, Florida
6 snowflakes from Carrie Cummings, Texas
2 snowflakes from Grace Shellenbarger, Pennsylvania
32 snowflakes from Kathy Frazier, California
11 snowflakes from Linda Deutsch, Montana
2 snowflakes from Cathy Adams, Michigan
3 snowflakes from Paula Bostick, Florida
5 snowflakes from Jerusha Borden, New Brunswick
2 snowflakes from Tracey Scheel, Wisconsin
44 snowflakes from Kerrie Minicozzi, Florida
98 snowflakes from Virginia Ohearn, Ontario
27 snowflakes from Kathy (aka Nancy) White, California
78 snowflakes from Julia Oswald, Australia
182 snowflakes from Kendra Blight Roberts, British Columbia
136 Snowflakes from Laura Jean Bartholomew,  Kansas