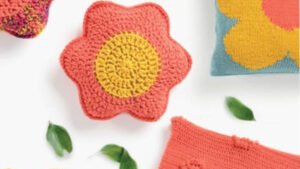 The Crochet Modern Blooms inspiration has 10 patterns mixed between sewing, knitting and crochet.
Today's trending is bold, bright and really knock out of the park for an accent to stand out instead of blending.
You will see brand new patterns for this season and colours that brighter than me! haha Be inspired by the Modern Blooms Lookbook.
Dress up your decor and you can see the colour selected or things you may find as a home decorating store today. It's that modern.
More Ideas

More Collections