6 Happy Plants Crochet Patterns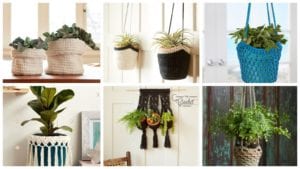 I have recently started collecting plants, it was something we felt the house was missing. When I go visit my friend Terena's house, I always feel so refreshed and awake when I'm there because she has a lot of plants. It feels like so much fresh oxygen!
The kids all love helping out with the plans it's wonderful. I have started making plant hangers to change some of the plants in, not only do they look lovely but the plants in them seem to love it in their hanging spots. This collection is a few of the patterns that I wanted to share with you, if like me you have a love for plants and are looking for new and creative ways to display them.
---
Little Potted Plant Crochet Cozy Pattern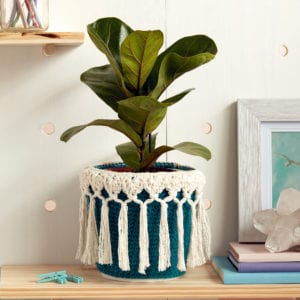 Plant pots can sometimes be a little on the plain side, or they are a colour that doesn't match the room they are in quite the way you like, the great thing about that is that you can make something like this Little Potted Plant Crochet Cozy Pattern in pretty much any colour combination that your heart desires.
This Little Potted Plant Crochet Cozy Pattern was made using Lily Sugar'n Cream you can also use an acrylic worsted weight yarn if there is one you forever, depending on the yarn it will have a slightly different look to it, but it will still look amazing. I have at least one plant that I want to make this for, my succulent it is perfect for it.


Blooming Beauty Crochet Plant Hanger Pattern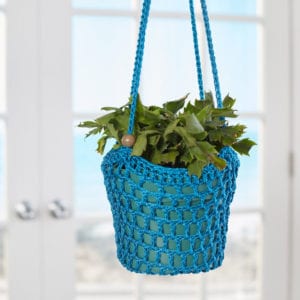 This Blooming Beauty Plant Hanger Pattern is a great easy little pattern if you are looking for something basic to hang plants up in your window, or outside on the porch. Especially those plants that love the sun but may not be getting enough where they are sitting now. I'm hoping I can get away with a few more in the window, then casually removing the curtains to "wash" them but not put back up haha.
The Blooming Beauty Crochet Pant Hanger Pattern was Designed by Donna Wolfe from Naztazia made using Red Heart Crochet Nylon, I haven't seen that yarn but I have been just using the small balls of cotton to make my hangers with. I have also seen them done in Red Heart Super Saver as well. I just find that yarn tends to have a bit of a stretch to it, which is fine, especially if you are looking for a different size pot.


Crochet Hanging Plant Trio Pattern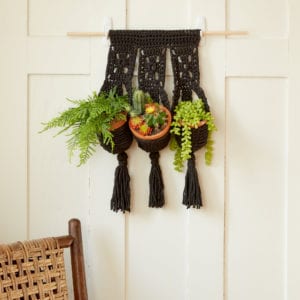 This is one I want to make for myself, I have three Aloe because it keeps growing and sprouting so they are three different sizes, I think the plants would look super cute in this Crochet Hanging Plant Trio Pattern. I may attempt some single or double versions of this too, I have a couple of spider plants that may love one of this style when they get bigger.
This Hanging plant Trio Pattern was made using the Bernat Maker Home Dec, I haven't tried using that yarn yet but I have some part balls that I may give it a try, curious how big of a difference between this and using just cotton.


Crochet Plant Hanger Pattern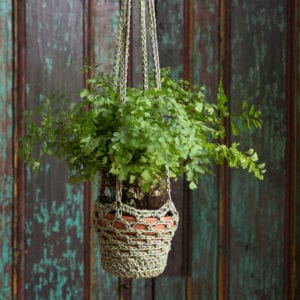 This Crochet Plant Hanger Pattern has more of a rustic earthy vibe to it. This appeals greatly to me I may love those bright colours but I love those earthy tones as well I call it well rounded. If you are looking for something a little plainer so that the plant is your main focal point. This would make a great pattern to work up.
The Crochet Plant Hanger pattern was designed by Alessandra Hayden, made using Red Heart Cordial. Cordial is not one I think I've ever come across that I can remember it's a bulky weight I tend not to look at too many of that weight unless I have a pattern in mind. I may have to go on a yarn hunt for some Cordial though, I'm rather curious to see what it's like to work with.


Slouchy Crochet Plant Holder Pattern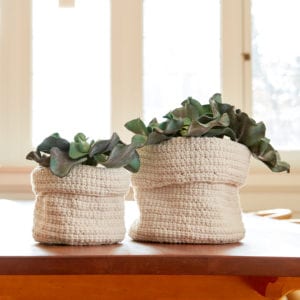 If you are looking for something really easy but still super cute, this Slouchy Crochet Plant Holders Pattern is a great choice. The pattern gives you two different size options which are a bonus. If you happen to have a couple of different sizes of the same plant, they would look really cute in this matching set.
This Slouchy Crochet Plant Holder Pattern was made using Bernat Maker Home Dec, there are a fun few colours that you could play with for this pattern. You can also use worsted weight for this pattern as well if you can't find yourself the Maker Dec.


Crochet Hanging Pot Cozy Pattern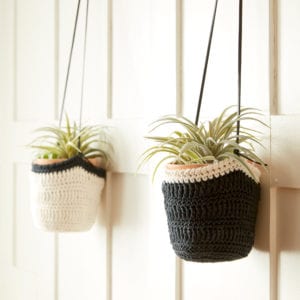 Made with Lily Sugan'n Cream this is a really easy simple pattern. The one thing I noticed different with this Crochet Hanging Pot Cozy Pattern is that the pattern doesn't have to crochet the usual crochet straps, the pattern uses faux leather cord instead. I have not tried that yet, it's the first pattern that I have come across that does it this way. If you can't locate the cord, you can easily just crochet one like the other patterns and use it instead.
The Crochet Hanging pot Cozy Pattern was made using Lily Sugar'n Cream, there are some really pretty colours there are all kinds of fun colour combinations to be made!


Pattern Suggestions
More Crochet Patterns to Consider