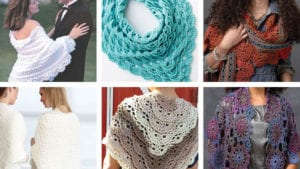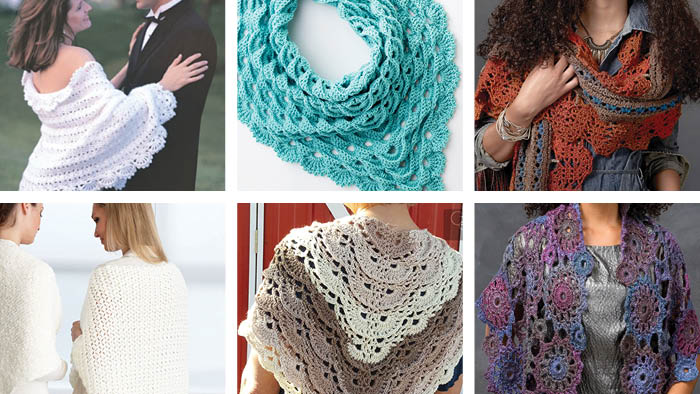 6 Terrific Crochet Shawls
Crochet Shawls are generally appreciated by crocheters to be able to create. They make for quicker projects other than an afghan. Shawls are usually offered as comfort to give to others who are feeling like they need a spiritual lift or reminder others are there to help with emotional support.
Some shawls are so lovely, they make for great formal wear for magic moments like a date night, wedding or ceremony in some way.
I have pulled together 6 crochet shawls that are one of the most downloaded on our crochet website.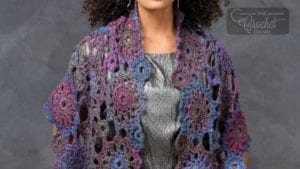 Crochet Circular Motif Shawl
The Crochet Circular Motif Shawl that I have nicknamed as the Crochet Amazing Shawl is made up of circular motifs.
For this project, you will make the large circular motifs and after the first one is completed, you will join existing motifs as you crochet so it becomes a one-piece unit. Once the large motifs are completed, you will then make the smaller motifs and join them to the existing large motifs to pull everything together.


You can continue to add more motifs to change the size of this shawl project.
This is lacy in appearance and isn't a huge time commitment. This was using Red Heart Boutique Midnight which since has been discontinued.
Tutorial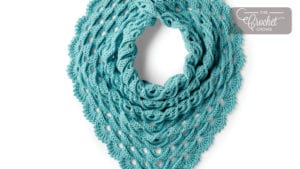 Crochet Go-To Shawl
Just for kicks, I printed out this Crochet Go-To Shawl as I left for a plane trip. I looked at the texture and made a judgement call to change the row colours to really let the light play with the strong texture of this shawl.


This shawl starts at the back of the neck and grows outward. The advantage of this easy to do shawl is that you can make it as small or large as your heart's desire.
I do think a solid colour of this shawl is just as sweet. The tutorial talks more in-depth about this project to help you further.
Tutorial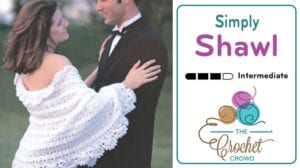 Crochet Simply Shawl
The Crochet Simply Shawl is a timeless shawl to my point of view. This shawl is a large rectangular shape that is an easy repeat to make the entire rectangle.
Once you have completed the rectangle shape, you will then apply the stunning border that is on this shawl.


Look wise, it's not over the top and can be the topping to a well-dressed person or even a casual shawl to take the chill off. It is also noteworthy as a charity based shawl too. To me, this shawl has the very best.
This is an older pattern and we have a direct download as it's been retired.
Tutorial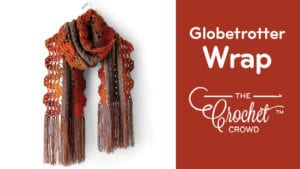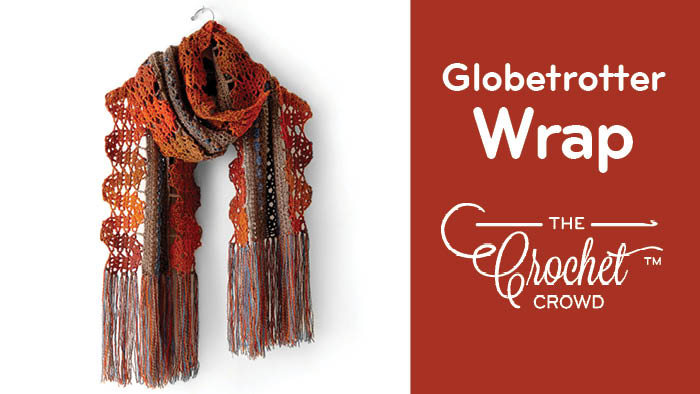 Globetrotter Shawl
Hands down, I adore this shawl/wrap a lot. I learned a new technique while doing the filming called Bruges Lace. It's the snaking up section that you see. It's really not that hard. This is the Crochet Globetrotter Wrap/Shawl.


We ran for a crochet challenge but due to the sock yarn being recommended and The Crochet Crowd is more of an everyday level yarn, there wasn't a lot of interest. However, sock yarn, like Kroy Sock yarn really has incredible colour stories and I think gets overlooked.
Think about it. When you go to an independent yarn store, most of the yarns are fingering weight using merino wool and more. This design was created to tap into those who buy that level of yarn for this unique wrap idea.
Using the sock yarn with this project was just dreamy and the drape was stunning! I loved and I mean LOVED doing this project.
Tutorial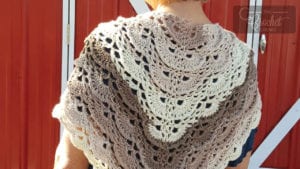 Crochet Fluffy Meringue Shawl
The Crochet Fluffy Meringue Shawl is a take on an existing pattern called the Fluffy Meringue Baby Blanket.
Our Laura Jean Bartholomew reviewed the baby blanket due to the exquisite stitches and converted the baby blanket into a shawl. Here's what she adapted to make this happen.


She cut the baby blanket into half to form a triangle shape.
She removed the picots from the baby blanket to simplify the pattern at the end of the large sprays.
She used Caron Cakes Yarn and crocheted the colour as it comes out of the ball. There is no doctoring of colours to force colours to appear.
Unique features remained the same as per the baby blanket are as follows:
She kept the large crochet sprays that are three dimensional.
She kept the center V-Stitches for both the center of the shawl and side edges to have a uniform and consistent look.
Diagram
Click the picture to download.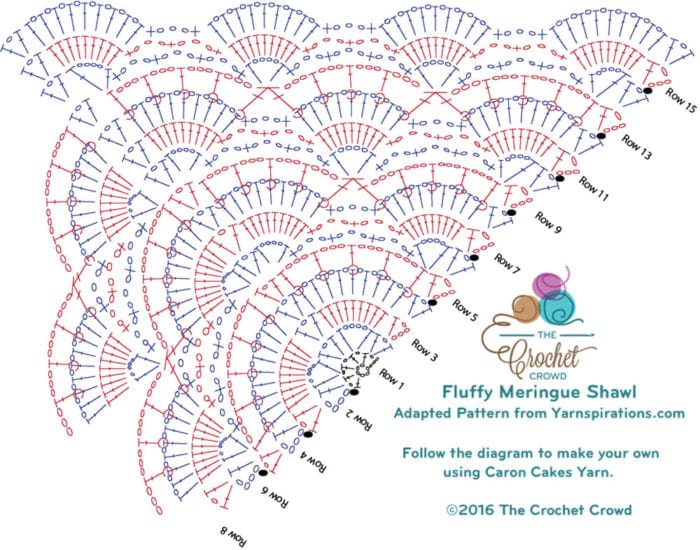 Laura Jean's Version
As seen in the photograph is wearing the Fluffy Merinque Shawl using only 1 ball of Caron Cakes.
You can get 8 ¾ Crochet Sprays using one ball.
47″ across the diagonal and 21″ deep.
For something bigger, just use more Caron Cakes balls.
Tutorial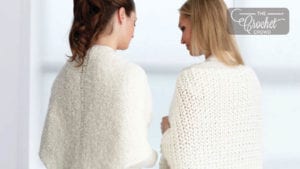 Crochet Prayer Shawl
The Crochet Prayer Shawl shown is on the right in this photograph. The other one is knit and not listed. The shawl starts at the back of the neck and expands outwards. This means that you could make this for a child-size too.


Though it's shown in white, I can see this stitch done in any colour that would make you very happy.
If you are looking for an easy repeat pattern, this could be your next project too.
Tutorial
I hope you enjoyed my line up of recommended shawls. I hope you will come back and check my site for more projects as we always launching something new.
Even More Shawl Ideas