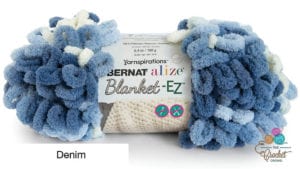 Bernat Alize Blanket EZ Yarn
Canadians have been waiting and the wait is now over. Bernat Alize Blanket EZ yarn is now available at Walmart Canada in most Walmart Stores across our country.
This is a starter yarn project for kids and adults who fear learning how to knit or play with yarn. With the loops already created, the act of pulling through the loops through each other make learning more easier. Through this concept, beginners really can get how the loops work together and could potentially spill into new knitters or crocheters in the future.
There are easy to follow videos for making simple projects like blankets and more. Also, there are tutorials for skill building for twisting or criss cross or even cabling. Yes, you can do that with this yarn.
If you don't see it on the shelf at Walmart, it may be still enroute to the store. Just go to customer service to inquire.
If you missed it, this is Walmart Canada only. For our USA friends, please visit Joann Fabrics & Crafts Stores for your Bernat Alize Blanket EZ.
More Ideas with Bernat Blanket EZ
Bernat Blanket EZ Tutorials
Projects Featuring Bernat Blanket EZ