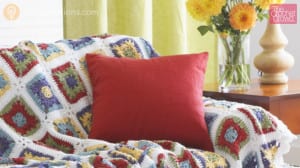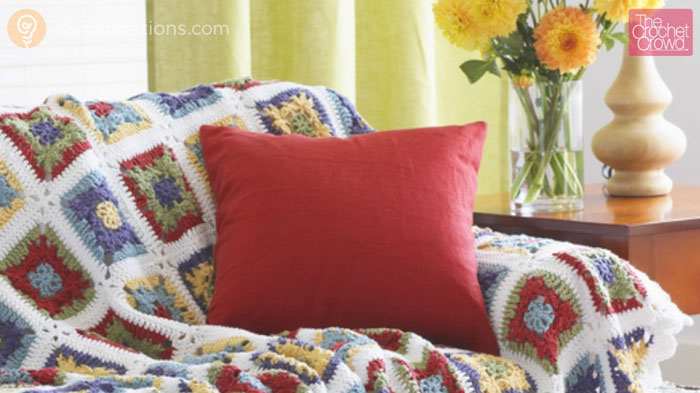 Country Granny
Learn how to crochet this really interesting Country Granny Afghan.
The Country Granny is an afghan that is assembled on a diagonal which gives way to making a triangle motif for the edges. The front face of the granny is really interesting and I think for the creative crocheters out there, you may have fun assembling unique colours to achieve this look.
For the Crochet Cruisers of 2016 for both of the Caribbean Cruise Ships, this is the official square of the Project Linus Afghans.
Other Cruise Charity Projects We've Done
The video tutorials include how to make the square and triangle motifs.
Get this free pattern, it's called the Country Granny Afghan.
Video Tutorials for Square and Triangle (Right & Left)
More Cruise Charity Projects
Caron Cakes
,
Comic Patterns
,
Crochet Lapghan Blankets
,
Crochet Thanksgiving
,
Crochet Video
,
Cruise Charity Patterns
,
Easy
,
Experienced
,
Intermediate
,
Michael Sellick
,
Red Heart Super Saver
,
Shawl & Poncho Patterns
,
Stitch Along Patterns
,
CAL
,
Comics Afghan
,
Contest
,
Crochet aLong
,
Crochet Comic Icons
,
Crochet Comic Symbols
,
Crochet Comics
,
Crochet Designs
,
Crochet Fall
,
Crochet Fall Decorations
,
Crochet Harvest
,
Crochet Marvel
,
Crochet Patterns
,
Crochet Thanksgiving
,
Designs by Mikey
,
Fall Decor
,
Harvest
,
Icon
,
Mikey's Signature Wrap
,
Ornament Afghan
,
SAL
,
Scandinavian Afghan
,
Stitch Stop and Roll Afghan
,
Stitch-Along
,
Stitching Contest
,
Study of Texture
,
Study of Transition
,
Thanksgiving
,
Thanksgiving Decorations
,
Wave Wrap
,
Whirled Wrap
,
Winter Blizzard Afghan
Amigurumi Patterns
,
Baby Toys
,
Cruise Charity Patterns
,
Intermediate
,
Red Heart Super Saver
,
Amigurumi
,
Baby Toy
,
Baby Toys
,
Black
,
Brown
,
Chicken
,
Crochet Amigurumi
,
Crochet Baby Gifts
,
Crochet Baby Shower
,
Crochet Baby Toys
,
Crochet Characters
,
Crochet Chicken
,
Crochet Cruise
,
Crochet Rooster
,
Crochet Round Rascals
,
Crochet Stuffed Toys
,
Crochet Stuffies
,
Crochet Toys
,
Michelle Moore
,
orange
,
pattern
,
Red
,
Red Heart Super Saver
,
Rooster
,
Round Rascals
,
Toys
Baby Blanket Patterns
,
Comic Patterns
,
Crochet Baby Blanket Round Ups
,
Crochet Motif Baby Blankets
,
Cruise Charity Patterns
,
Michael Sellick
,
Action
,
Afghan
,
Baby
,
Baby Blanket
,
Baby shower
,
Charity
,
Comics
,
Crochet Baby
,
Crochet Baby Blanket
,
Crochet Baby Gift
,
Crochet Blanket
,
Crochet Comic Icons
,
Crochet Comic Symbols
,
Crochet Comics
,
Crochet Cruises
,
Crochet Marvel
,
Easy Baby Blankets
,
Easy Crochet Baby Blanket
,
Granny Square
,
Icon
,
Project Linus
,
Superhero
Charity Patterns
,
Crochet Cruise
,
Crochet Granny Blankets
,
Crochet Video
,
Cruise Charity Patterns
,
Easy
,
#4 Yarn
,
Carnival Cruise Lines
,
Caron One Pound
,
Celebrity Cruise Lines
,
Charity
,
Charity Crochet Project
,
Craft Show
,
Craft Table
,
Crochet Blanket
,
Crochet Charities Ideas
,
crochet charity
,
Crochet Craft Show
,
Crochet Craft Table
,
Crochet Cruise
,
Crochet Cruises
,
Crochet Donations
,
Crochet Help
,
Crochet on Cruise Ship
,
Crochet Ship
,
Cruise
,
Donation
,
Easy Crochet
,
Gray
,
Helping Others
,
JO-ANN
,
JOANN Fabric & Craft
,
JOANN Fabrics & Crafts
,
Sherry Leybovich
,
Yarn at JOANN
Caron One Pound
,
Charity
,
Crochet Cruise
,
Crochet Granny Blankets
,
Cruise Charity Patterns
,
Easy
,
Carnival Cruise Lines
,
Celebrity Cruise Lines
,
Charity
,
Crochet Cruise
,
Crochet Cruises
,
Crochet on Cruise Ship
,
Crochet Ship
,
Cruise
,
Easy Crochet
,
Gray
,
Sherry Leybovich
Accessory Patterns
,
Crochet Cruise
,
Crochet Video
,
Cruise Charity Patterns
,
Easy
,
Lily Sugar'n Cream
,
Michael Sellick
,
#4 Yarn
,
Bernat Handicrafter
,
Cabin Card Holder
,
Carnival Cruise Lines
,
Celebrity Cruise Lines
,
Crochet Cruise
,
Crochet Cruise Lanyard
,
Crochet Cruises
,
Crochet on Cruise Ship
,
Crochet Ship
,
Crochet Tutorial
,
Cruise
,
Easy Crochet
,
Hotel Key Holder
,
Key
,
Key Holder
,
Lanyard
,
Lily Sugar'n Cream
,
Name Badge Holder
,
Sherry Leybovich
Caron One Pound
,
Charity
,
Crochet Cruise
,
Cruise Charity Patterns
,
Michael Sellick
,
#4 Yarn
,
Carnival Cruise Lines
,
Caron One Pound
,
Celebrity Cruise Lines
,
Crochet Cruise
,
Crochet Cruises
,
Crochet on Cruise Ship
,
Crochet Ship
,
Cruise
,
Granny Square
,
Sherry Leybovich
,
tags
,
Yellow
Caron One Pound
,
Caron Simply Soft
,
Charity
,
Corner to Corner Patterns
,
Crochet Cruise
,
Cruise Charity Patterns
,
Alaskan
,
Bias
,
Bias Stitch
,
C2C
,
C2C Blanket
,
C2C Ideas
,
C2C Stitch
,
Carnival Cruise Lines
,
Celebrity Cruise Lines
,
Corner to Corner
,
Corner to Corner Ideas
,
Corner to Corner Stitch
,
Crochet C2C
,
Crochet C2C Stitch
,
Crochet Corner to Corner
,
Crochet Corner to Corner Blankets
,
Crochet Corner to Corner Stitch
,
Crochet Cruise
,
Crochet Cruises
,
Crochet on Cruise Ship
,
Crochet Ship
,
Cruise
,
Easy Crochet Stitch
,
Sherry Leybovich
,
Stitch
Baby Blanket Patterns
,
Comic Patterns
,
Crochet Basic Baby Blankets
,
Crochet Motif Baby Blankets
,
Crochet Video
,
Cruise Charity Patterns
,
Fleece Patterns
,
Michael Sellick
,
Michael Sellick
,
Afghan
,
Baby
,
Baby Blanket
,
Baby shower
,
Crochet Baby
,
Crochet Baby Blanket
,
Crochet Baby Gift
,
Crochet Blanket
,
Crochet Comic Icons
,
Crochet Comic Symbols
,
Crochet Comics
,
Crochet Fleece
,
Crochet Fleece Patterns
,
Crochet Marvel
,
Crochet Tutorial
,
Easy Baby Blankets
,
Easy Crochet Baby Blanket
,
Fleece
,
Icon
,
JO-ANN
,
JOANN Fabrics & Crafts
,
Yarn at JOANN