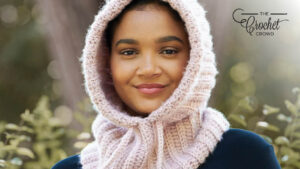 The Crochet Cozy Ribbed Hood with built on cowl is a very easy pattern to crochet. Red Heart Super Saver Brushed in an easy level pattern.
The cowl is crocheted first in a long flat panel that is closed to make a circle for the cowl. The hood is started on the side of the cowl and worked upwards to 13″ tall.
The front has a drawstring casing that provides a finished look to the hood.
It's pretty easy to do and you can follow the instructions step by step.
More Ideas

Tutorial
More Crochet Cowls