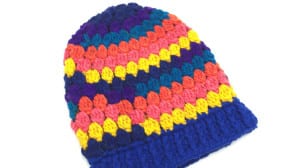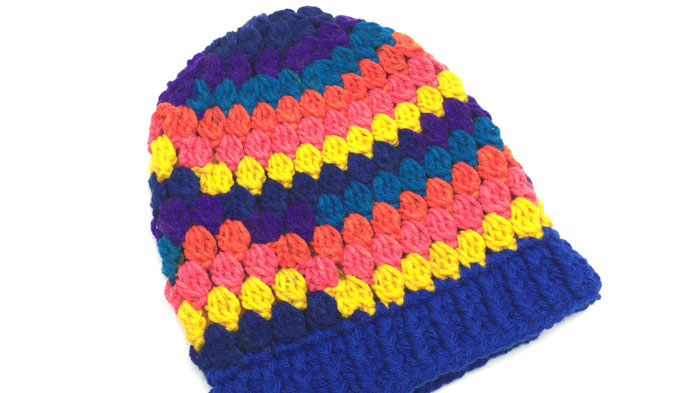 Crochet Hat for Kids
If you are like me and prefer not to change yarn colours and let the yarn do the work to make a hat, then this yarn is just for you!
This is the Granny Stripes Hat designed for two age categories. Ages 2 – 4 years old and 6 – 8 years old kids.
I'm not a fan of changing yarn colour all the time. Sometimes, I just want to sit in front of the TV and crochet and let the yarn do the work for me. Introducing the brand new yarn called Bernat Super Value Stripes yarn. It has 8 colours in the line. I have included our adult Granny Stripe Hat Pictures that have used the same yarn brand to show you other colour options.
The colour used in mine is called Candy Store. As you can see, the yarn stays the same colour for a long period of time before changing to a new colour. It doesn't do subtle transitions of fading from one to another.
For the child-size version, for either of the sizes, you will only need 1 ball of Bernat Super Value Stripes yarn. You will need a secondary colour that compliments the colours found in the hat. I used primarily blue colour for the brim as I felt keeping the yarn going will not make the brim very tidy looking.
Use the same size crochet hook as recommended in the free pattern but use Bernat Super Value Stripes Yarn if you like this look.


Hat Pattern Ideas