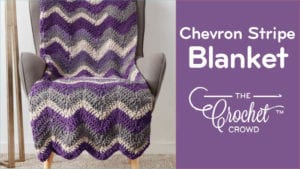 Crochet Chevron Self Striping Blanket
The Crochet Chevron Stripe Blanket is letting the Bernat Blanket Stripes do the work for the yarn to produce the colours you see.
As you can see in the tutorial, it's the same stitch pattern as the Grey Scale Blanket. It's 1 chevron short so the colours really line up beautifully.
So the starting chain count is 101 versus 115 for the Grey Scale Blanket. The stitch combo is the same.


Pattern Suggestions
Tutorial
More Wave Ideas