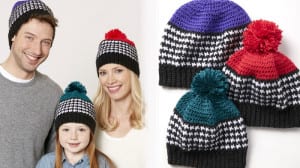 Houndstooth Hats
A pattern for most of the family featuring the Houndstooth Stitch. The pattern starts in the kid sizes from 6 - 10 years old and then goes to Women's and then Men's. This is the Crochet Houndstooth Family of Hats.
Inside the pattern, you will see the instructions in different shades for each of the sizes. In the tutorial below, I have taken you through doing the pattern in child sizes but the other two sizes are not too far off of it. You can just substitute the information.
In the tutorial, I will show you how to do the Houndstooth Stitch. Trust me when I say, the name is harder to say than the pattern stitch itself. Houndstooth is a mix of two stitches of just single crochet and double crochet. So you alternate doing the two stitches and in the row/round above, you put in double crochet where single crochet sits and vice versa. I thought this stitch was known as a Crinkle Stitch but maybe over time the terminology has changed or maybe I was just wrong completely.
I thought a yellow hat with the black and white in the middle would remind me of a taxi cab. You could also do these in colours for racing and more. Daniel is now wearing the sample I made in the tutorial. I did mine in steel blue and white.


Pattern Suggestions
If you need help with the pattern, please use my tutorial below.
Tutorial
More Hat Ideas
Baby Hat Patterns
Messy Bun Hat Patterns
No post was found with your current grid settings. You should verify if you have posts inside the current selected post type(s) and if the meta key filter is not too much restrictive.