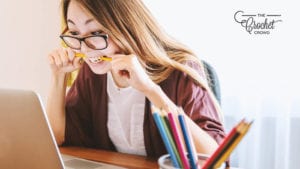 Crochet Pattern Testing Exercise
The Crochet Crowd testing team goes through a lot when testing one of our patterns and does a significant amount of revisions. It could be a number of factors that are wrong with a pattern.
The goal is to find as many pattern issues as possible and let the team work together to have the best possible outcome. Like any humans though, we all can overlook the same errors.
When locating errors, it usually triggers us to look further as the same errors can be repeated.
Error Sheet - Find 15 Errors


Answer Sheet
Finding errors can make you a stronger pattern reader. It also clues you in to the fix and being able to fudge anything where you don't have access to the designer.


Leave us a comment on the blog on how many errors you saw. Be secretive though, don't share in the comments where the errors are. Let others have a chance to find them too.
More Ideas
More Dishcloth Patterns