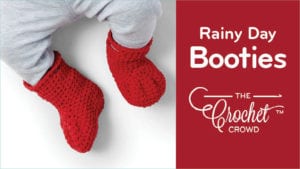 Rainy Day Booties
These Crochet Rainy Day Baby Booties are probably one of the most adorable pair of booties I have seen in a very long time. The model pictures don't do them justice as you really cannot see the handles at the top of the booties for realism. I want a pair for myself and I know I can be a big suck sometimes too!
Common sense rules that yarn boots shouldn't be worn outside or around water. These are more visual for indoor use.
The sizes are 6 - 12 months and 18 - 24 months in the pattern. The tutorial is showing the 6 - 12 months. Just substitute the information on the pattern for the larger size.
The easy to follow pattern makes crocheting these pretty quick. They took me less than an hour to make 1 the first time around. Once I went through the first time, I was quicker the second time for the second boot.


Pattern Ideas
Important Advice
The first few times I ever did booties when I was first starting to do them, one boot would end up bigger. I wouldn't bother to double-check the counting of the rounds. It's amazing how being off 1 extra stitch can change the size visually. So the advice is, "Count and Double Check when doing the rounds to ensure both are the same size."
Using Bernat Blanket Tiny, you will be able to get 3 - 4 pairs out of one ball alone! These might make a great idea for craft shows to sell.
Tutorial
Crochet Baby Bootie Patterns