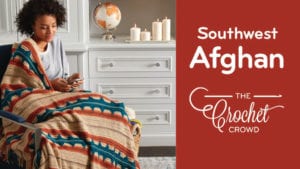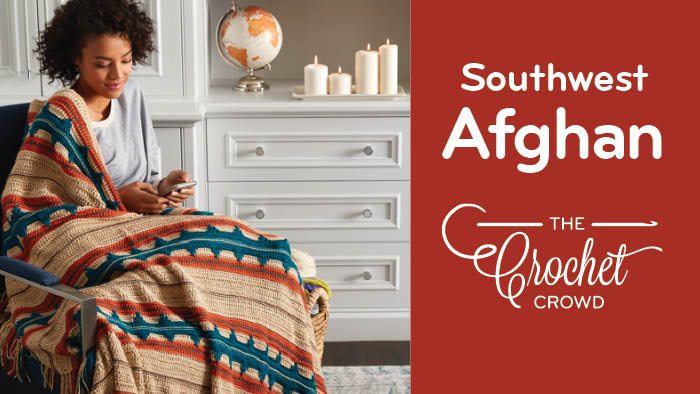 Crochet Southwest Stripe Afghan
I am very inspired by the USA Southwest colour palette and cultural designs that originate from the Southwest. In fact, if you have noticed in some of our videos, there are paintings on the walls of our home that we picked up years ago, not originals, but giclee format, of Tim Yanke's work, inspired by the Southwest.
Of all states, if I had to move to the USA, I would choose New Mexico. For those who follow along with me, you have heard me say this several times before. In my opinion, one of the prettiest states. There is a sense of cultural and baron features of New Mexico. Mixed in are the flavours of Southwest culture.
So for me, this Crochet Southwest Stripe Afghan has stolen my heart in the nature of the design. But I did wonder, how did they do it? Is there graphghan work at play? Exactly what did the Yarnspirations' Designer do? You know that if a seasoned crocheter like me is wondering how it was designed, others will wonder how you made it too because it's a conversational piece.
Using the flavourful colours over Caron Simply Soft, this afghan is a bit of an optical illusion. Once you see the free pattern, you will come to understand why I am questioning construction. So for those who need help with the pattern to visualize it. Let me explain.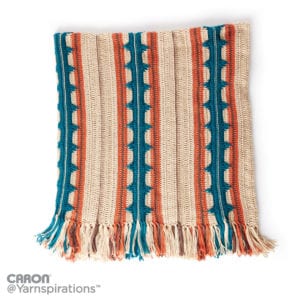 The afghan isn't one solid from side to side. It's consisting of panels. If you notice the beige line in the middle of the blue section. That is the join of two panels coming together. If you follow the afghan across and see a raised ridge directly in the middle of being between two blue sections, that's the ending of the panel.
So the panel is the construction of each panel starts in the beige area and then progresses to the oranges and then finishes blue. Once you have your strip complete, you do another. So the beige sides butt up to each other and the blue sides butt up together. So it gives you a wonderful look. But how is that blue section done? 
The blue section is drop-down stitches when you are working with blue. I thought for a bit that maybe there was graphghan work of carrying the blue under the stitch work to create it. Thankfully not... Kudos to the designer for not over complicating this fantastic design.
Even better, the designer has a diagram created for you to follow. What to know anything else cool?
The designer is also sharing with us what the multiples are for a repeat pattern. It's 15. So if you want to change the size, chain in multiples of 15 and then add 2 at the end of the chain to bring it in balance. So the multiple is 15 + 2. I love it a lot when the designer reveals this information.


More Afghan Pattern Ideas