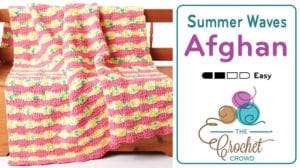 Crochet Summer Waves Blanket
Learn how to make an interesting crochet blanket called the Summer Waves Blanket. This wave blanket really has got a summery look and feel to it as it's made with Bernat Blanket yarn using their new line called Bernat Blanket Brights. The yarn is electrified with colour and looks great.
This afghan has two rows that are identical which causes the wave look of the lines appearing to thicken up and contract. The next two rows are the same but shifted to settle into the valleys of the previous two rows.
There is a crochet diagram included with the written instructions to help you even more.


Video Tutorial
Afghan Pattern Ideas