DOWNLOAD FADING SHADES FREE PATTERN
---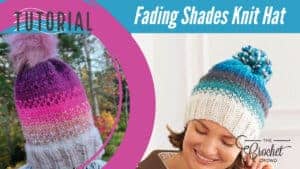 The Knit Fading Shades Hat was my first time trying colour work by bouncing between colours in the same round. It's so much easier than crochet. Hard to believe.
This is the kind of hat I would want to see in a boutique style craft show display. It's something beyond the basic expectations. I wouldn't be cheap about selling these either. They are amazing and people spend more on hats like this of upper quality in the fashion stores. If I told you I bought this in a store, you probably should believe me. It's that great of a design.
Behind the scenes, Yarnspirations is encouraging me to go step by step without pushing myself into the deep end to tread water. Each stitch concept I am trying has a little bit more to understand for my mental tool box of ideas.
I thought this was intarsia but it's it's just called Color Work or Strand Knitting. Where the unused colour floats in behind. For hats it's easy to do. Due to the yarn, the hat was faster to make than I expected.
I'm super proud and the colours just jump off the hat beautifully.
---
Pattern Details
Project Level: Easy
Project Size: Average Adult Pattern Gauge: 13 sts and 18 rows in stocking st.
Designer: Yarnspirations Design Team
Stitch Multiple is not applicable.
Needle Size on Pattern: 5.5 mm / US 9 and 6 mm / US 10
Yarn In Pattern: Caron Colorama O'Go. Colour is called Lippy or Blue Mustang
For Teaching Purposes: I am showing same needles and yarn. Please use the pattern for details on yarn quantities, gauge and other details not listed here.
PATTERN DATE OF DOWNLOAD PDF June 3, 2021 This pattern may have been updated since the creation of this tutorial and the information or presentation of the printable PDF may have been changed without notice.
---
More Ideas
The Snow Speckled Knit Hat was the second time I tried colour work to simulate the snow falling. A tutorial has been made for this and available soon. This was written on Nov 1, 2022 and it should be available in the next week or so.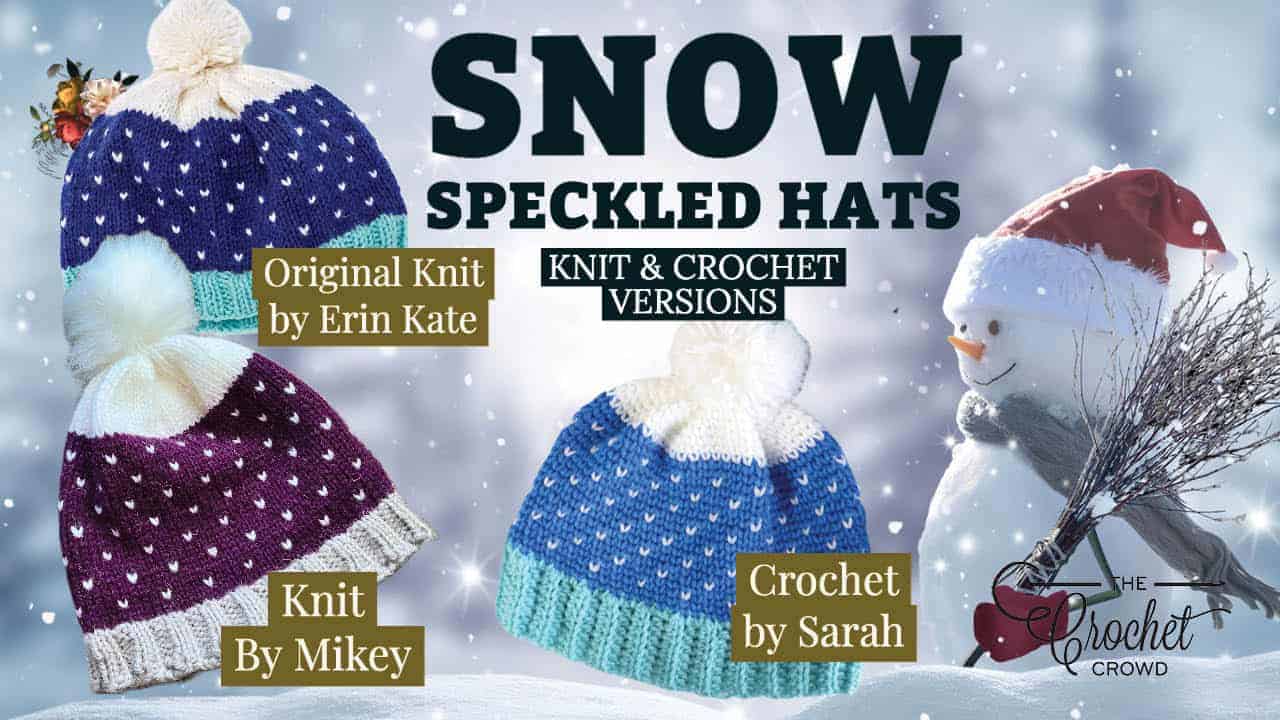 ---
Tutorial
Camera flips for knitting doesn't work like the crochet tutorials. Mikey is right handed only. It can only be available in right handed mode for The Crochet Crowd.
---
More Knit Hats