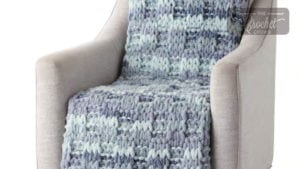 Finger Knit EZ Wool Blanket
The Bernat EZ Wool Box Stitch Blanket is now available to try. Using just knit and garter stitch, you can create this basket weave looking blanket using Bernat Alize EZ Wool.
This is simply a yarn that is self looping. It doesn't require any skills of knitting or crochet. You just simply follow the instructions and you can have a handmade great project for your home.
Getting started is a bit tricky but once you have yourself established it an easy level project. I have included how to change over yarns to jump from one to another and binding off at the end of the tutorial.


Tutorial
More Ideas
Projects & Starting Tutorials
This yarn can be substituted with Bernat Blanket-ez Yarn.
More Ideas
Bernat Alize Blanket EZ" data-style="grid" data-row="1" data-layout="vertical" data-rtl="" data-fitrows="" data-filtercomb="" data-filterlogic="OR" data-filterload ="" data-sortbyload ="" data-orderload ="false" data-fullwidth="" data-fullheight="null" data-gutters="[[320,5],[480,5],[768,10],[980,10],[1200,10],[9999,10]]" data-slider='{"itemNav":"null","swingSpeed":0.1,"cycleBy":"null","cycle":5000,"startAt":1}' data-ratio="1.78" data-cols="[[320,1],[480,2],[768,3],[980,4],[1200,4],[9999,5]]" data-rows="[[320,200],[480,200],[768,220],[980,220],[1200,240],[9999,240]]" data-animation='{"name":"Fade in","visible":"","hidden":""}' data-transition="700ms" data-ajaxmethod="load_more" data-ajaxdelay="100" data-preloader="1" data-itemdelay="100" data-gallery="" data-ajax="">