Finger Knit Seed Stitch Blanket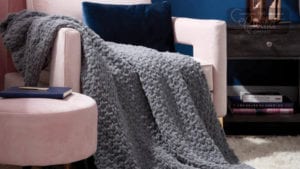 The Finger Knit Seed Stitch Blanket is a combination of knit and purl working opposite to each other. You can use the pre-formed loops of Bernat Blanket-ez or even Bernat EZ Wool yarn to make this blanket.
Give those fingers a stretch and a workout while you whip up this pretty Seed Stitch Blanket or one of the other EZ Wool Blanket Patterns.


More Ideas
Projects & Starting Tutorials
This yarn can be substituted with Bernat Blanket-ez Yarn.
More Pattern Ideas
Bernat Alize Blanket EZ" data-style="grid" data-row="1" data-layout="vertical" data-rtl="" data-fitrows="" data-filtercomb="" data-filterlogic="OR" data-filterload ="" data-sortbyload ="" data-orderload ="false" data-fullwidth="" data-fullheight="null" data-gutters="[[320,5],[480,5],[768,10],[980,10],[1200,10],[9999,10]]" data-slider='{"itemNav":"null","swingSpeed":0.1,"cycleBy":"null","cycle":5000,"startAt":1}' data-ratio="1.78" data-cols="[[320,1],[480,2],[768,3],[980,4],[1200,4],[9999,5]]" data-rows="[[320,200],[480,200],[768,220],[980,220],[1200,240],[9999,240]]" data-animation='{"name":"Fade in","visible":"","hidden":""}' data-transition="700ms" data-ajaxmethod="load_more" data-ajaxdelay="100" data-preloader="1" data-itemdelay="100" data-gallery="" data-ajax="">