DOWNLOAD WIND SPINNER FREE PATTERN
Download included photographic images for steps and both sizes.
---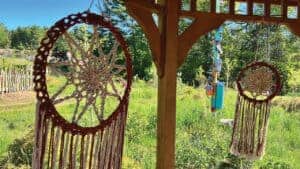 The Crochet Gazebo Wind Spinner Star is a crochet design by me for your outdoor living decor. Using Bernat Macrame yarn.
I wanted something to soften the look of our gazebo and give context to how windy it is. Living in Nova Scotia, it can be quite breezy as the oceans are never far away. The wind spinners are on a swivel attachment and I used badge holders to hold them so they can freely spin.
I worried that if I didn't let them spin that it will cause the start strap to fray or fatigue the supporting hook. If it freely spins, the hanging strap won't tangle if the star wishes to spin several times. The swivel with handling that.
More Ideas
---
Tutorial
---
More Home Decor