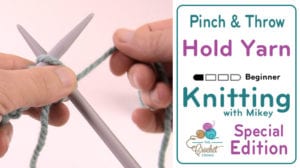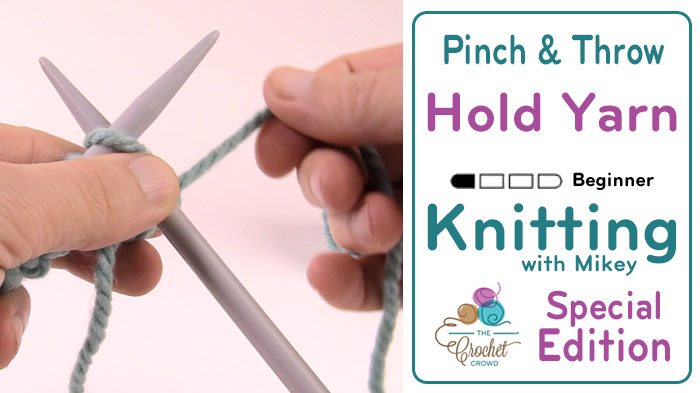 How to Hold Yarn – Pinch & Throw
The Pinch and Throw Method is the way my mother taught me as a child. There are many ways in which to knit and this is used by many people.
I couldn't help but think of crochet when learning. The exaggerated motion of a crochet hook can result in slower crochet times because your hand is moving more than it has to. For me, I like to simplify the wrapping process to be easy and the tension to be consistent.
While others have mastered this method, for me, I feel like there is stress on my wrists with the pinching of the yarn and throw it over the knitting needle. Again, please understand this is my own opinion for this method.
To do this method, the yarn is kept in your dominant hand next to the needle. As you need the yarn, you pinch the yarn and then throw it over the needle. Wrapping the needle in knitting terms is referred to as throwing.
Once you have thrown the yarn, you reset your dominant hand back onto the needle to continue the knitting process.
Pattern Suggestions
See how this is done in the tutorial below.
Tutorial
Knit Scarf Pattern Ideas
Caron One Pound
,
Crochet Stitch Along Blankets
,
Crochet Study of Blankets Series
,
Easy
,
Free Crochet Patterns
,
Scarves
,
Stitch Along Patterns
,
#temperatureblanket
,
Capricious Knit Scarf
,
Crochet aLong
,
Crochet Blanket
,
Knit Scarf
,
Marly Bird
,
Season Along
,
Stitch-Along
,
Study Blankets
,
temperature blanket
,
The Study of Temperature Blanket
,
Weather Blanket
,
Weather Scarf