---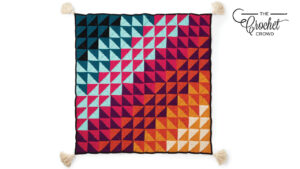 The Crochet Prismatic Chromatic Granny Blanket is a two-tone solid granny square that is strategized by the colours. The tutorial below will show you how to accomplish these squares and ultimately you have to crochet a specific number of them which is in the free pattern.
I have linked in more videos for this concept including granny squares that are 4 sided in colour and other projects you may want to consider. From traditional granny squares and more.
It's a fun concept to play with and just changing the rotation of the squares can change the look of the blanket instantly.
More Ideas

Tutorial
Prismatic Chromatic Launches April 6th, 2022 at 2 PM ET.
I would use the invisible join as shown below to join.
In the tutorial, I talked about other types of granny squares that is in this method.
More Blankets