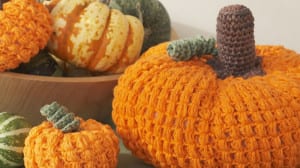 Crochet Small Pumpkin
This crochet small pumpkin sits in the bowl in this photograph. We have already filmed a large pumpkin that is in this pattern.
In the video tutorial, Mikey is following Mini Pumpkin 1 for instructions. The difference between Mini Pumpkin 1 and Mini Pumpkin 2 is that Mini Pumpkin 2 has two additional rounds of 5 added. It's slightly taller by 1/2 inch.


More Patterns to Enjoy
The stitches you are seeing in the pattern are called the Puff Stitch. They are not hard but take a bit of getting use to.
Follow the Tutorial Below
More Halloween Patterns