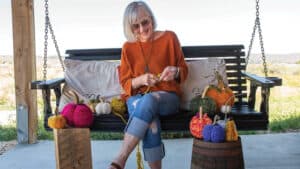 Have you heard of Carol Duh and her incredible Pumpkin Patch? Different sizes and colours. It's magnificent.
Reporter, Scott Iwasaki, tells the story of Carol's stitching journey through pumpkins. Read the Full Story Here.
What makes this remarkable is her attention span, more than anything. For myself, I prefer to crochet one item and then move on to something new. Maybe it's my attention span or wanting to see what more about the stitching journey's path is going to take me. In any case, to prepare that many pumpkins out of a passion are a total fibre high five in my book.
Changing Perspectives
What grabbed my attention was the stems used. Daniel and I were at a gallery and purchased some velvet pumpkins where the stems were dried up from the original pumpkins and applied to the pumpkins. The sales clerk shared with us that it's all about the stems. Don't choose the iconic look but choose what is unique and authentic to the reality of the stems of pumpkins. It instantly changed our minds about what we enjoy about pumpkins. It's not what's the same but, in fact, it's about what's different.
Reminds me, we should pull them out for this harvest, I actually forgot about them until I saw this post.
More Ideas
Take the Inspiration
Carol didn't crochet them but what if they were crocheted. Change the tool and application of these and be inspired. There were tips she gave about colouring which is really neat as well.
All it takes is an inspiration.
More Pumpkins and Fall Themes