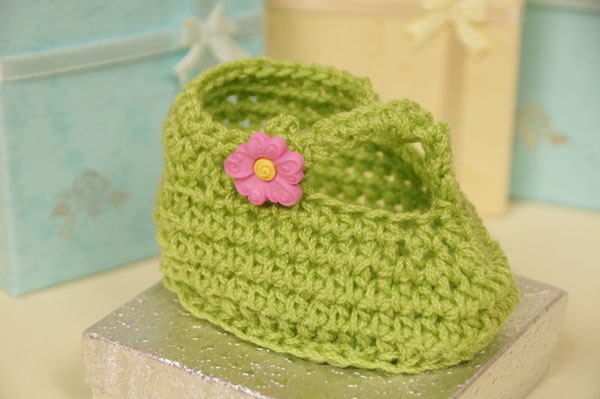 Baby Booties
Looking for the perfect gift to crochet? These are the Crochet-Strap Booties. It is becoming more trendy to break free of the traditional light pastel colours that are typically associated with babies. Some new mothers love for their baby to stand out from the rest. You can always use this free pattern and do the booties in the colours that you most prefer. This pattern is available in 2 sizes, newborn – 3 months and 3 months – 6 months.
You may sell any projects you make from this pattern. Please refer your friends to this web page if you want to share this pattern.


2 Sizes of Booties for Newborn up to 6 Months
This pattern is compliments of Red Heart. Mikey substituted the yarn for Red Heart Luster Sheen. The yarn colour is called Lime. Mikey is tired of baby girl colours being pink, so he went headfirst into Lime with an accenting pink plastic flower button to secure the strap. The colour is somewhat unexpected for a baby girl but fashion-forward and fun. Due to the style of the booty, you can't mistake them for being for boys.
As indicated in the pattern, you change the sizes by following the size difference by looking at the parentheses (). This pattern works up pretty quick and Mikey did several pairs just because they were a lot of fun.
The T-Strap aspect is a real functioning strap. There is a loop around the strap to go over the button to secure it into position.
The button on the side was a cute little find in a local fabric shop.
Pattern Suggestions
https://www.youtube.com/watch?v=CLRsw_jckbI
More Booties Ideas