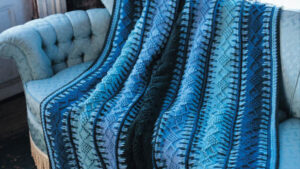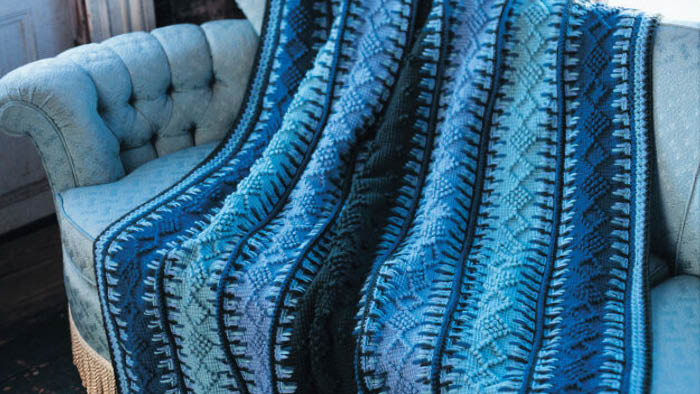 Michael challenged me to master this Timeless Tunisian Blanket. I scanned the pattern and thought what am I seeing here? I just wasn't able to wrap my head around the directions.
After a bit of thinking, I realized my challenge. It was one simple sentence throwing me off.
---
Breaking The Mental Block
I just couldn't wrap my head around how a panel could be made with B, C & D. I could see the chart, but no clue how to work it. Then it dawned on me…there is one word missing…"COLORS". A, B, C & D are not referring to the chart, they are referring to the color. SILLY ME! Just adding the word color to the sentence made the difference for me. The pattern reads, NARROW PANELS (make 2 panels each with B, C and D). My brain needed NARROW PANELS (make 2 panels each with "colors" B, C & D).
Now that I have that figured out, I can't wait to get started with my sample of this Tunisian beauty. After giving it some thought I came to the conclusion that Michael asked for a sample but I'm thinking that I would serve you best by converting this pattern into a baby blanket. I have a grandson due in July which has me thinking baby (you know he can always use another blanket).
You will find my updates here as well as my progress. In addition, I will provide the stitch counts for the picots on the chart. Having the counts written out allows me to keep my yarn flowing smoothly so, there is no need to stop and count the squares.
---
Since Michael challenged me I thought I would challenge you. So, take a peek at this Timeless Tunisian Blanket, get your Tunisian hooks and yarn ready because we can do this! Additionally, I will be available to help you along the way. This is going to be awesome!! I am hooked and I can't put this blanket down. I hope this results in you enjoying Tunisian Crochet as much as I do.
More Ideas