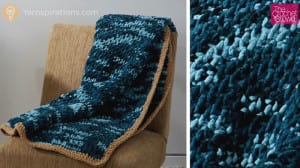 Tunisian Honeycomb Stitch & Blanket
Learn how to do the Tunisian Honeycomb Stitch and then apply your new-found knowledge with this brand new Tunisian Honeycomb Blanket.
This stitch actually does look like a bees honeycomb nest. In solid-looking yarn, the pattern is more obvious. Due to the stitchwork, it has an elastic stretch to it. It's really neat.
The stitch isn't hard, what is hard is remember to start each row right. I have tricks in my video tutorial to share with you.


Get this free pattern, it's called the Tunisian Honeycomb Blanket. Need further help, review my video tutorial below.
Video Tutorial
More Afghan Pattern Ideas