Daddy Mikey has a new toy! A Red Heart Pom and Tassel Maker. A tool that makes multiple pom poms at the same time!
On a crochet cruise, whenever we do a draw and there are toys! We announce, "Who needs a new toy!" with a bit of an innuendo tone and many of the cruisers start slithering in their chairs wanting to be picked! It's pretty comical. Promises of getting me chocolate, martinis and more can follow in heckling! I'm on a ship, I can get that stuff myself! haha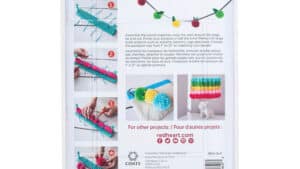 This toy really looks good with my yarn. It's HAWT! Best yet, it expands! Oh BABY! Spread those pegs out and wrap the long length and you can do multiple poms at the same time! I don't have to do as many individual poms at the same time, I can have maybe 4 at a time! It is getting hot in here? Oh wait, it's summer and it's humid out.
I need to add this to my list of crochet gifts to buy! Shove this in my stocking Santa! YES, PLEASE! 
Warning: This tool may cause smiling and sighs of happiness with perfect poms and tassels! 

Best of all, it's also a tassel maker! Ooooh, a double performance tool. OH MY!
Just snap, snap, shove in the pegs and wrap this up! SQUEEE! Move over Chocolate, there's a new player in town! I'll be in my room making pom poms!
Tutorial
In the future.
More Collections