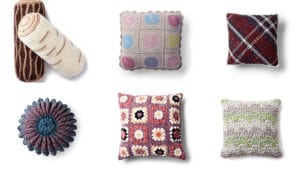 6 Unique Crochet Pillows
As a person who struggles to wear crochet, home decor and accessories such as pillows help me fulfil my need to create.
I found, in my experience, those pillow forms are probably the highest cost of making your own pillow. Luckily, there are stores like Walmart where the pillows are really cheap. Crocheting a cover to go over one of an existing pillow is sometimes the way to go.
Each pillow form has its own softness. For myself, I prefer a firm pillow. Pillow forms with zippers sometimes have an opportunity to add more polyfil should you need it.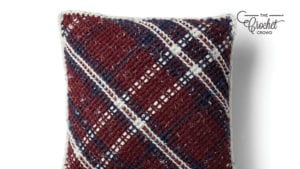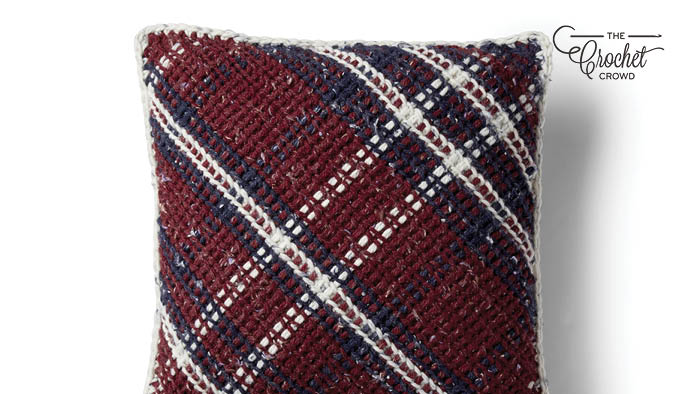 Crochet Argyle Pillow
Plaid, gingham, tartan and argyle style is going to be trending for at least two more years, according to trend predictors.
I grew up with a couch that had textures and look like this. So it's a bit nostalgic for me. This is the Crochet Argyle Pillow.
The pillow is crocheted as a Corner to Corner, using Single Crochet in either the front loops or back loops. Once the front is established in row 2, you can see what side is what.
The pattern can be customized to any pillow but the pillow shown is 20" x 20". My own pillow sample, I did slightly smaller, so the lines don't perfectly go symmetrical. However, for this type of look, I think I like it better as it's not symmetrical. You can decide what works for you.


Tutorial
---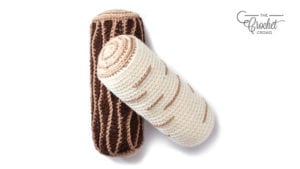 Crochet Timberlog Pillows
These really awesome log pillows almost look like the real deal. Introducing the Crochet Timber Log Pillows. These pillows are approximately 17″ long. You could crochet a wack of logs for decor reasons or even use them as pillows.
I would describe the skill level, easy, being accurate for these. Also, using the 6.5 mm / K hook with Bernat Softee Chunky makes these crochet fairly quickly too!
The birch has surface overlay techniques that are shown in the tutorial as well.


I did these pillows for my guest room! Pretty darn cute! My crochet mandala is also on the bed.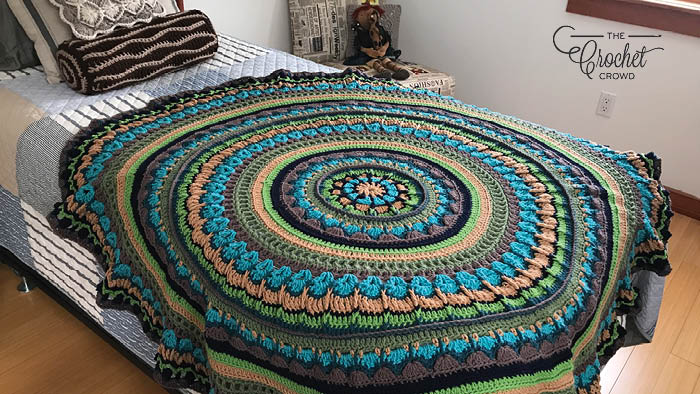 Tutorials
---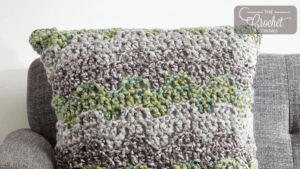 Crochet Mellow Bargello Pillow
Using the Crochet Bargello Stitch Techniques, you can create this new Crochet Mellow Bargello Pillow with this neat idea. This is using Bernat Colorwhirl, a brand new yarn for late 2018.
I substituted the hook from a Q / 16 mm to an N / 10 mm which can do a 20″ pillow instead.
Bernat Colorwhirl is really neat. The stripes provide a nice mixture of colours to create the marled look.


Tutorial
---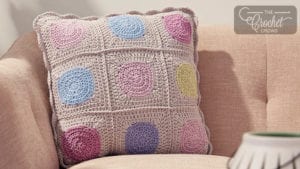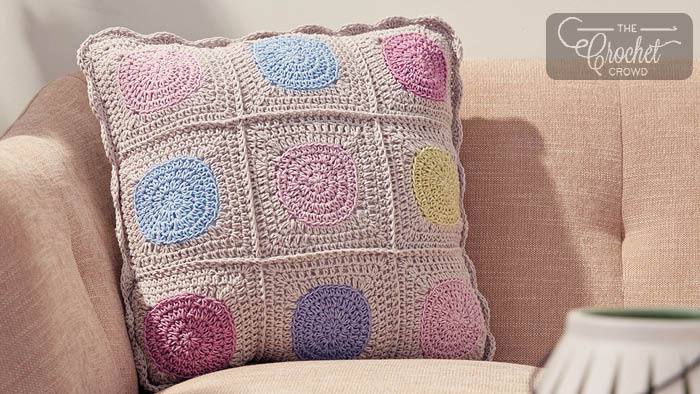 Crochet Circles in the Square Pillow
The Crochet Circle in the Square Pillow is an 18″ x 18″ pillow that has 9 squares on each side of the pillow face. There is a crochet diagram available to show you how to make the square and there are only 7 rounds per square.


The squares are put together with a single crochet join for each face. Then, use a slip stitch to join both faces together. Insert pillow inside before going all the way around.
This is using Caron Cotton Cake. Silver Cloud is the main colour with Sunset Dreams being the secondary. Notice how each of the circles is a solid colour that is pulled from the ball of self-striping yarn.
---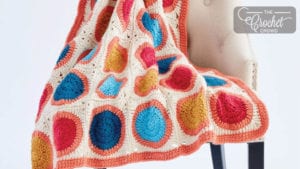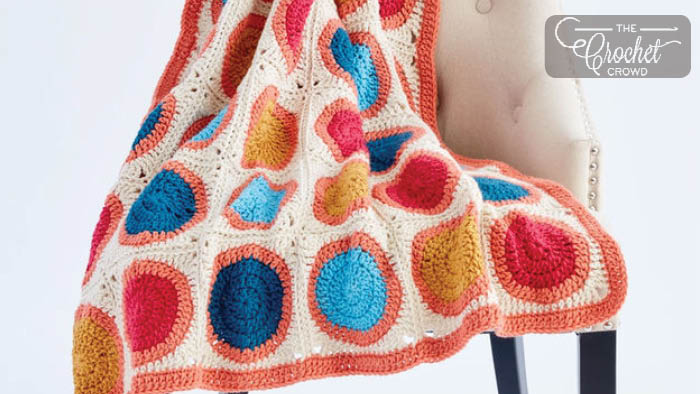 Circles Takes the Square Blanket
A pairing of the blanket to a pillow is a great idea.
For those who love circles but still love granny squares, this is the Crochet Circle Takes the Square Afghan.


Tutorial
---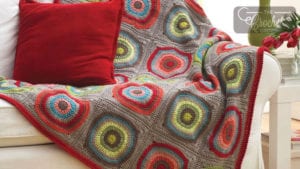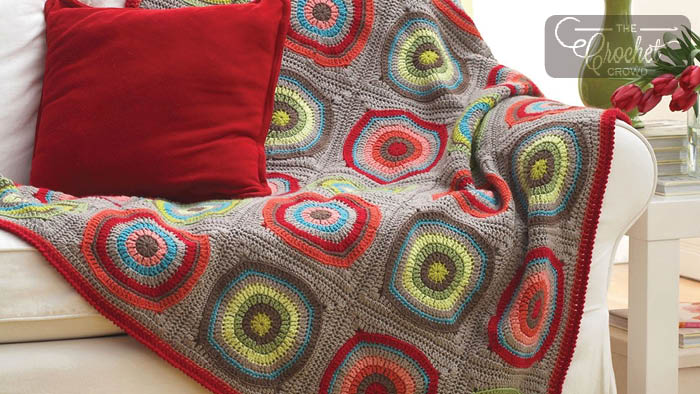 Crochet Circle in the Square Blanket
Learn how to crochet your very own Circle in Squares Motifs to make your own Circle in Squares Afghan.
There are 4 motifs in this pattern but they are all the same technically speaking. The difference between them is that there are 4 different colourways to consider. Don't let this pattern stop you from coming up with your own crochet colorways as I think this would be an amazing scrap-ghan project to use up their partial balls sitting around in your home.


This afghan offers a bit of a challenge in the sense that the centre has to transform from a circle and then eventually to a square by the 8th – 9th rounds. The trick is to watch the colourways to know what colours you want to have more attention than others.
Tutorial
---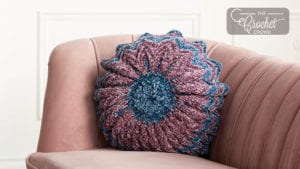 Crochet Pleated Round Pillow
The cute-as-a-button Crochet Pleated Pillow brings retro style to your home decor. It is made with two colours of luxuriously soft Bernat Velvet, this project can bring a new texture to the colours in your living room or bedroom.  The rows of zig-zags fold into pleats, which causes light and shadows to play off the shine of Bernat Velvet. We love this modern update on this classic pinwheel cushion design.


Tutorial
---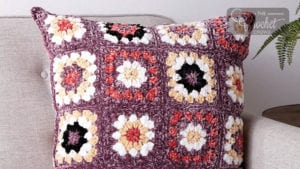 Crochet Pretty Grannies Pillow
The contemporary update to this classic design gathers together up to five colours from your home decor. Try this Crochet Granny Square Pillow. Stylish and playful, this pillow brings vintage back to life. Check out the free pattern from Yarnspirations, featuring super soft Bernat Velvet Yarn.


More Fun Ideas
More Home Decor Ideas
No post was found with your current grid settings. You should verify if you have posts inside the current selected post type(s) and if the meta key filter is not too much restrictive.