6 You Know You Wanna Crochet Ruana Patterns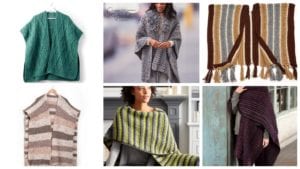 This is a collection of the best accessory patterns you could ever create for yourself or others. I'm so very happy Ruana's are a thing, I personally own quite a few and I am totally ok with that. In fact, I'm ok with owning more now that I can make my own in colours and yarn that I love, which let's face it there's no real shortage of, especially since they keep coming out with more just as lovely.
The first one I want to start with is the Around Town Ruana, in a wool yarn it would be super warm and great for days in the winter I'm out shopping and running errands. A jacket is way too much but the Ruana is perfect!
---
Crochet Savvy Ruana Pattern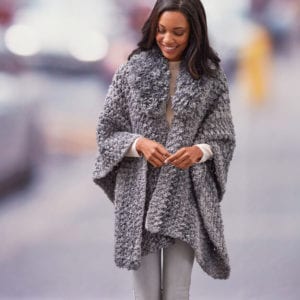 This is a great Ruana if you are looking for something a little more on the dresser side like for an evening out on the town, date night or a dressier function or party, and you want to wear something other than a jacket. Grabbing this Crochet Savvy Ruana Pattern is not only practical by keeping you warm but is stylish and different where this one has a bit of a collar to it.
This Crochet Savvy Ruana Pattern was Designed by Cristina Mershon using Red Heart Stellar for the body of the Ruana and Red Hear Boutique Fur for the collar area. I don't think I have seen these yarns in my area, so you all will have to make this pattern up and post photos for me, so I can see.

Crochet Tassled Ruana Pattern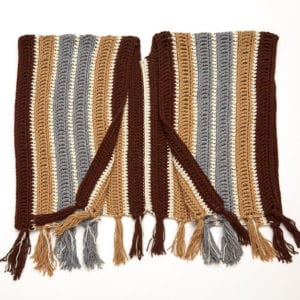 This is a great casual Ruana in natural earthy colours that will go with anything. This Crochet Tasseled Ruana Pattern is a good one to throw on when you are home and want to feel cozy, or you're sitting out on the deck with friends it's a great cozy little ruana to put on or grab it on those brisk spring days when you are out for a walk with the kids. This Tasseled Ruana is a handy one to have in your closet for whichever reason you need.
The Crochet Tasseled Ruana Pattern was Designed by Salena Baca made using Red Heart Soft. The Soft is such a lovely yarn I really love the colours in it, make this Tasseled Ruana in the earthy tones, or pick colours of your own play with the colours to have fun with it.

Crochet Ruana Pattern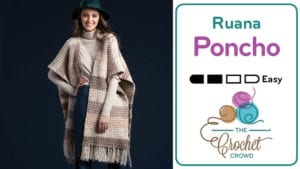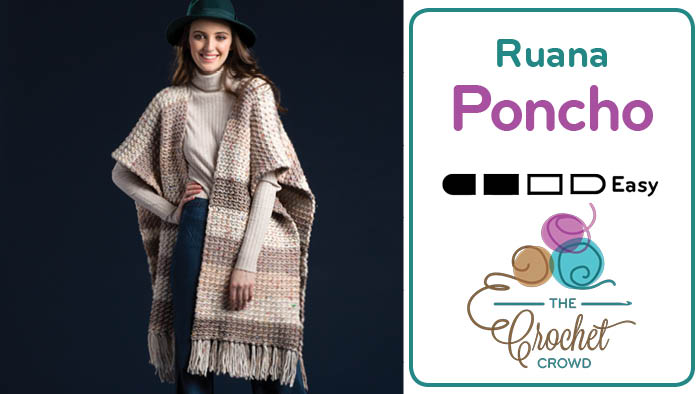 This is one that I have the pattern printed for and just realized when reading over the pattern again right now, that I accidentally used the yarn I had set aside for this is something else oops. Guess that means I will just have to go yarn shopping and get something else for it. The Crochet Ruana Pattern like the Tasseled Ruana is more of a casual Ruana. I live in tank tops all year long, even though I love hoodies they never stay on me long when I am home, the Ruana's are great if I'm chilly and don't want to wear a sweater, I throw one on and I'm just right, it is like when you're in bed and your just too hot, so you stick out your foot to cool down.
This Crochet Ruana Pattern is made using Caron Sprinkle Cakes which around here there isn't any out so I plan to use one of the other cakes available to me here.

Crochet Textured Stripes Ruana Pattern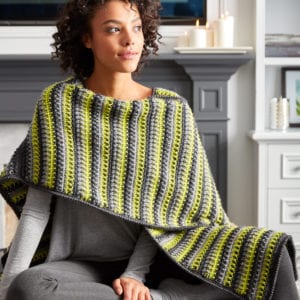 This one is similar to the Crochet Ruana and the Tasseled Ruana but different in that it has a bit of a texture to it, which is really fun. The Crochet Textured Stripes Ruana Pattern is easily one that you can go from day to night with, you can go casual or it can be dressy depending on the colours you decide to go with. This is definitely one I plan on doing, it is an easy pattern but looks so pretty worked up.
The Textured Stripes Ruana Pattern was made using Caron Simply Soft, but you could easily use any worsted weight for any of these ruana's if there is a yarn you prefer, the great thing about ruanas is you have the freedom to play.

Crochet Criss Cross Ruana Pattern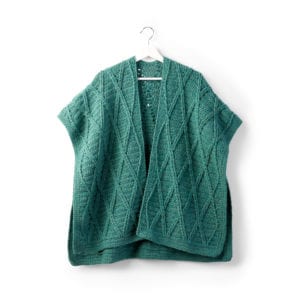 The Crochet Criss Cross Ruana Pattern is a great one for at the office, one of the biggest complaints I hear from a lot of friends in my life who work in an office is that their always cold, this ruana is a more office-friendly one, and one that you could throw over the back of your chair at work leave it there, and when you're cold put it over your shoulders until you're warm again.
This Crochet Criss Cross Ruana Pattern was made using Sugar Bush Dawson, I know that yarn isn't available everywhere, so feel free to substitute with a worsted weight that you love instead. This Criss Cross Ruana would be a lovely gift for a family member or friend who is always cold at work not to mention for your self.

Crochet Around Town Ruana Pattern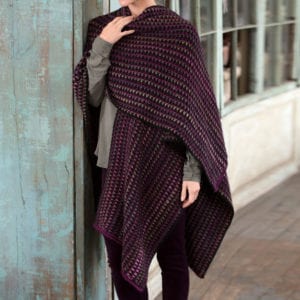 This is one I'd almost be willing to put a couple of projects in the UFO pile to work on, it's one of my favourites that I have seen and I have looked at quite a few. The Crochet Around Town Ruana Pattern is one that I have seen on other people and thought instantly I really want to make one of those for my self! I'd like to try this one in wool it would be super warm a great one for in the car, when you first get in, in the winter it's always freezing, this would keep you nice and warm till the car gets warm, then you can just flip the panels back over the seat when you are warm, instead of struggling with trying to get your jacket off.
This Crochet Around Town Pattern was Designed by Cristina Mershon made using Red Heart Soft as well as Red Heart Boutique Unforgettable. This is a great pattern to make for your self. If you have a loved one in a nursing home a cold office or just cause, any one of these ruanas in this collection would make a lovely gift.

More Pattern Ideas
More Crochet Pattern Ideas