Mikey discovered the slip stitch crochet brim years ago on one of the Yarnspirations patterns. He replaces brims with these. The Stepping Texture Hat had this brim, and it changed Mikey's opinion on crochet brims.
With crochet, once it stretches, it cannot stretch back to it's original sizing if the stitchwork isn't ideal. The slip-stitching brims keep their elasticity for years as the stitching doesn't want to stay stretched but pulls back to how you crocheted it.
The concept also allows for cool striped features like the brims below. Of course, you can keep the colours solid.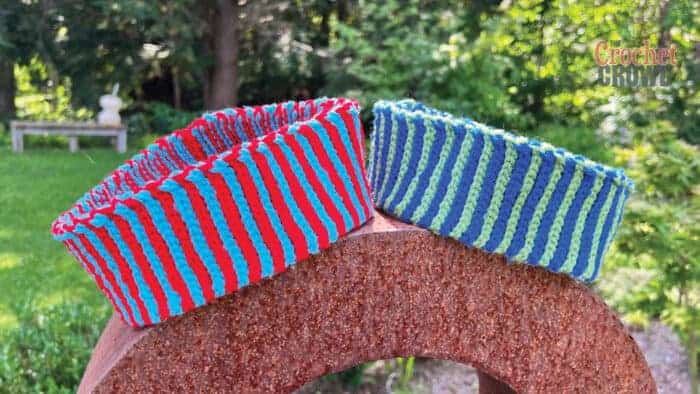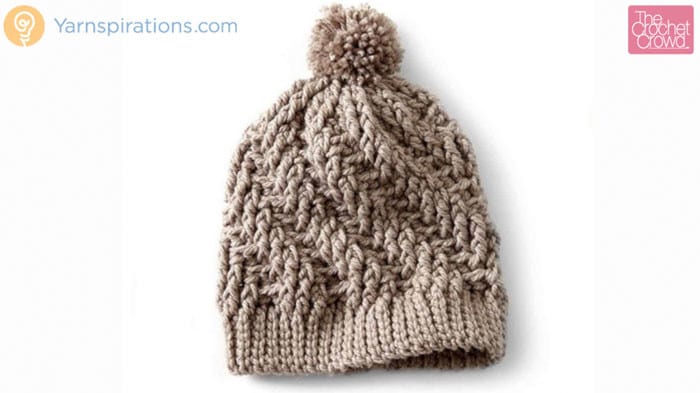 The trick to these is when a pattern has you make the brim first and then apply the stitchwork evenly around a side of a brim to grow upward, you can use this brim concept itself.
Like the Granny Striped Crochet Hat below, you can use the same dimensions and stitches for the brim but do the slip stitching across instead to change the brim out.
Mikey's Brim
The brims below were using 4 ply, medium weight yarn. Red Heart Heat Wave yarn. I used a 4.5 mm / G/6 crochet hook. These are designed for elf hats. These brims are 2.75" high by 20" diameter.
You can use the suggested hook on the pattern and this stitch concept. Do the length of the brim to what is mentioned in the pattern but ensure it is slightly stretched to get to that dimension.
Ch 16
1st row: Sl st 2nd chain from hook and in all chains across. Change colour, if required, on the last pull through of the last st to the next colourTurn. 15 sl st.
2nd row: Ch 1, 1 sl st in each st across. Turn.
3rd row: Ch 1, 1 sl st in each st across. Change colour over on the last pull through of the last st to the opposite colour.
Rep 2nd and 3rd rows. For average adult, 18" in length is ideal. Once joined, it will naturally stretch to fit properly.
Repeat until the size mentioned on a pattern or when you think it fits you the best. Allow for it to somewhat stretch before you join the sides with either sewing or slip stitch.