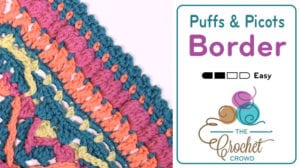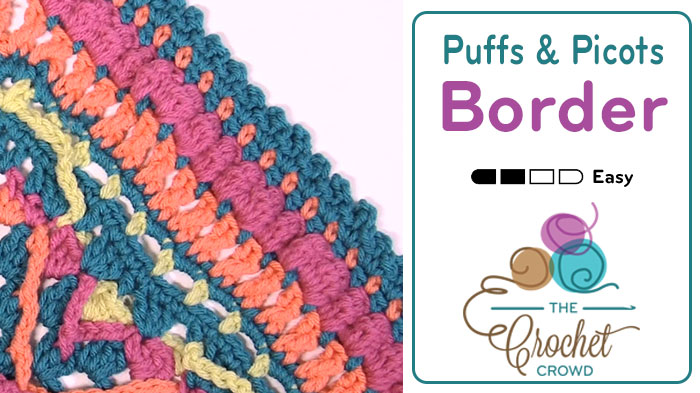 Puffs and Picots Border + Tutorial
The Puffs and Picots Border is one of my favourite borders of all time. It was used in the Mystery Afghan with Yarnspirations back in spring 2015. The original border was designed by Edie Eckman, one of the best crochet designers of all time.
This pattern is written in two places. Yarnspirations secured permission from Edie to use this border in their design. It appears in her book called Around the Corner - Crochet Borders. I believe it's Design #9 in this book. This is a must-have book if you ever thinking you need a crochet book that is a must-own. This, in my opinion, should be a staple crochet book for every crocheter in the world. I love this book beyond belief.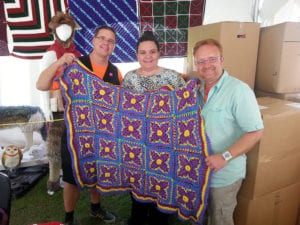 For the Mystery Afghan, this pattern is also written for free with permission from Edie. The rounds appear in both written words and crochet diagram format on Mystery Crochet Clues 8, 9 & 10. We did this border over a three week period back in 2015.
In the tutorial below, I have isolated the border from the mystery in the tutorial. You can see the pattern that was used and I follow it along explaining it as I go.
To Get the Border Started Right
To get the first round to work, you need to single crochet around the afghan thinking in multiples of 2 or even number. Ensure that you put in 3 single crochet into the corners to make the turn.
You need multiples of 2 to go around each edge. Do not include the middle stitch of the 3 in the corners when counting. I would count the first time you go around to make sure you get the count right. If you have multiples of 2 or an even number across without the middle stitch of the 3, the rest of the border will work out for you.
Watch the puff round. The puffs always jet out to the reverse side. So if you do this around looking at the back of the afghan, the puffs will jet out to the front side of the project.

Pattern Suggestions
Over 3600 people completed this afghan, you should check out the gallery if you are looking for inspirational colour mixes.
Tutorial
More Crochet Border Ideas
No post was found with your current grid settings. You should verify if you have posts inside the current selected post type(s) and if the meta key filter is not too much restrictive.