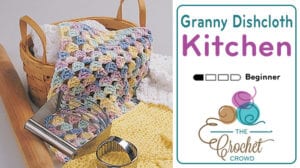 Easy Granny Dishcloth
Beginner crocheters can get off to a great start using this simple pattern and video tutorial to help you. Practice makes perfect and doing smaller projects, yet practical, like this dishcloth, can make for a fun learning experience and quick accomplishment of skills. This is the Crochet Granny Dishcloth.


For experienced crocheters, these are a walk in the park to put great TV time to good use without having to think much.
Pattern Suggestions
Video Tutorial
More Crochet Dishcloth Pattern Ideas