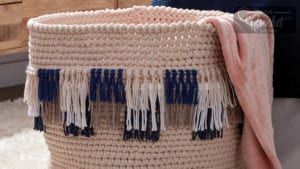 Crochet Fringe Basket
The Crochet Fringe Basket is a simplistic project with added fringe that is strategic to a few rounds near the top of the basket. The fringe area is still using single crochets but is asking you to turn after each round to produce a front bar that your fringe will attach to.
The fringe is added at the end of the project.


More Ideas
More Basket Projects