Reading Time:
< 1
minute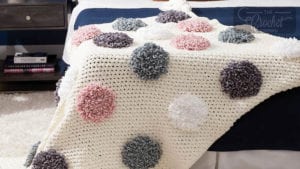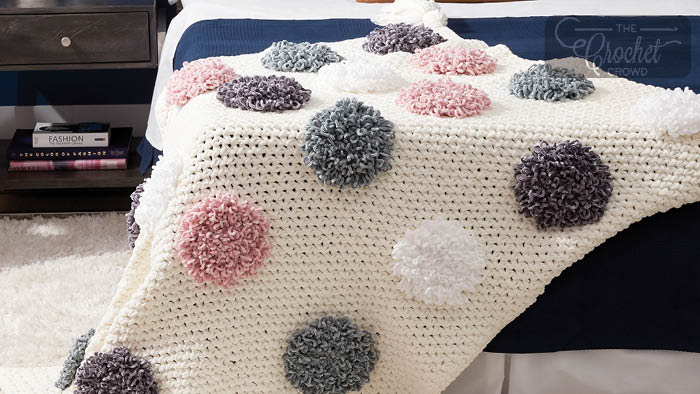 Crochet Loopy Dots Blanket
The Crochet Loopy Dots Blanket combines Bernat Blanket and Bernat Velvet together. This provides extra texture. The loopy dots shown are added to the blanket at the end of the project. You will sew them into position.
The free pattern includes the suggested placement for the loopy dots for your new blanket.


More Ideas to Share
More Bernat Velvet & Bernat Baby Velvet Ideas
# 5 Yarn Weight
,
Amigurumi Patterns
,
Crochet Video
,
Easy
,
Free Crochet Patterns
,
Holiday Patterns
,
Repeat Crafter Me
,
Velvet
,
#5 Yarn
,
Amigurumi
,
Bernat Velvet
,
Crochet
,
Crochet Bear
,
Crochet Tutorial
,
Easy Crochet
,
Free Crochet Pattern
,
Repeat Crafter Me
,
Sarah Zimmerman
,
The Crochet Crowd
,
Valentines
,
Yarnspirations
# 5 Yarn Weight
,
Amigurumi Patterns
,
Holiday Patterns
,
Intermediate
,
Velvet
,
#5 Yarn
,
Amigurumi
,
Bernat Baby Velvet
,
Bernat Velvet
,
Crochet
,
Doll
,
Easter
,
Free Crochet Pattern
,
intermediate
,
intermediate crochet
,
rabbit
,
The Crochet Crowd
,
Valentines
,
Yarnspirations
# 4 Yarn Weight
,
Blanket Patterns
,
Crochet Video
,
Intermediate
,
Velvet
,
Afghan
,
Bernat Velvet
,
Chevron
,
Crochet
,
Crochet Blanket
,
Crochet Ogee Stitch
,
Crochet Throw
,
Crochet Tutorial
,
Crochet Wave
,
Free Crochet Pattern
,
intermediate
,
Mikey
,
Ogee Stitch
,
The Crochet Crowd
,
Yarnspirations
,
Zig Zag
# 4 Yarn Weight
,
Baby Blanket Patterns
,
Blanket Patterns
,
Easy
,
Velvet
,
#4 Yarn
,
Afghan
,
Baby
,
Baby Blanket
,
Bernat Baby Velvet
,
Crochet
,
Crochet Baby Blanket
,
Crochet Blanket
,
Easy Crochet
,
Flower
,
Flower Patch
,
Free Crochet Pattern
,
Granny Blanket
,
Patch
,
The Crochet Crowd
More Blanket Ideas