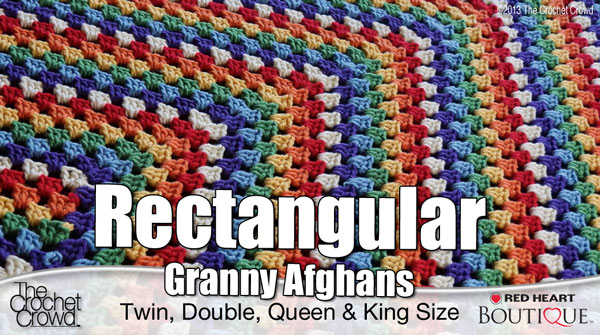 Patterns for All Sizes of Afghans
Some crocheters are tired or bored with 'Granny Squares' and wish they could do granny squares but in rectangular format instead. Let's face it, most things such as our bodies, beds and furniture are not square. The concept is not new, the trick is to be able to start off the project so the afghan grows properly in all directions to match the shape of our beds and etc.
More Crochet Rectangle Ideas
In this article, I have broken down the steps and figured out the math it takes to start your rectangular afghans. Though my hook size may be different than what you may decide for yourself, the sizing of achieving the right rectangular starting size to get the proper finished size should work out properly. The key is to ensure the middle is right length before circling around the project.
Typical Afghan Sizes
Sizes include draping over the sides of the bed. I have indicated the stitch counts to start off properly.
Please note that Queen Size Beds are typically square. Essentially, queen size afghans can follow the normal Granny Square Concept for an afghan.
Skein counts are not provided. This pattern is targeting how to get started with your afghan.
Don't be confused by the starting chain counts. Afghans that are longer than wider, such as a twin size, will have a higher chain count. Larger afghans tend to get closer to being closer to a square will have less starting chains.
Mattress Size
Size of Afghan
Dimensions
Starting Chain Count
28" x 52"

39" x 75"

Crib

Twin

33" x 42"

66" x 90"

13

58

54" x 75"
Full / Double
80" x 90"
31
60" x 80"
 Queen
90" x 90"
Complete As A Square Afghan
78" x 84"
King
 108" x 90"
49
 39" x 75"
Day Bed
 66" x 90"
58
Twin & Day Bed Size Afghan Instructions
Click the Document to Download, Print or Save.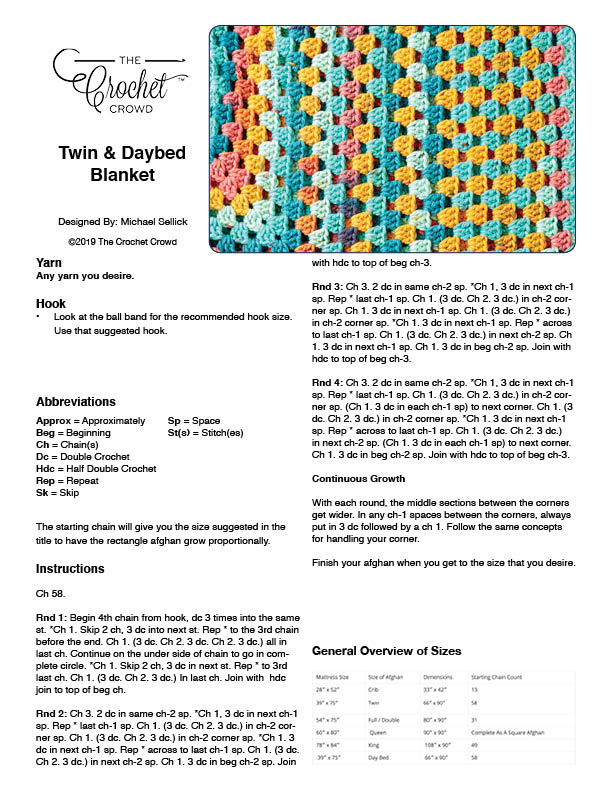 Double or Full-Size Bed Size Afghan Instructions
Click the Pattern to Download, save, or print.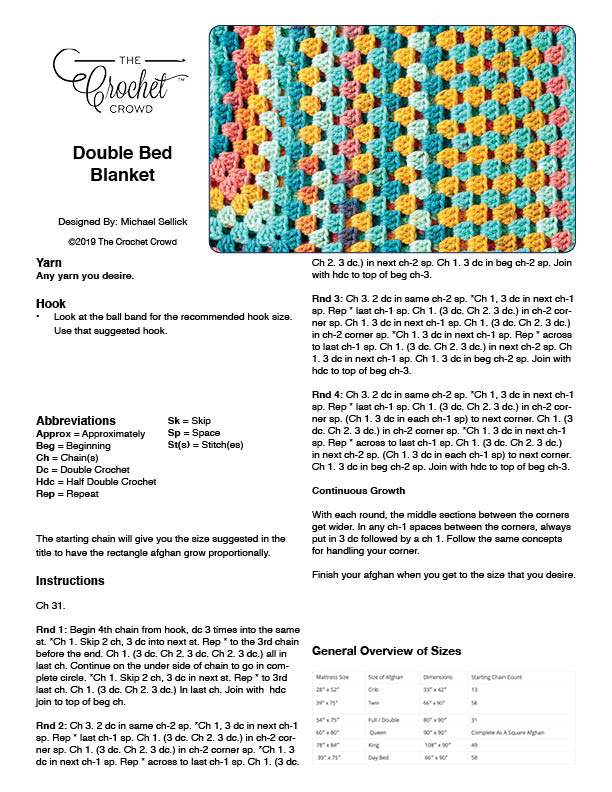 Queen Size Afghans
Queen size afghans are typically a square. A regular square granny square will work for this size bed.
King Size Bed Size Afghan Instructions
Click the pattern to download, print or save.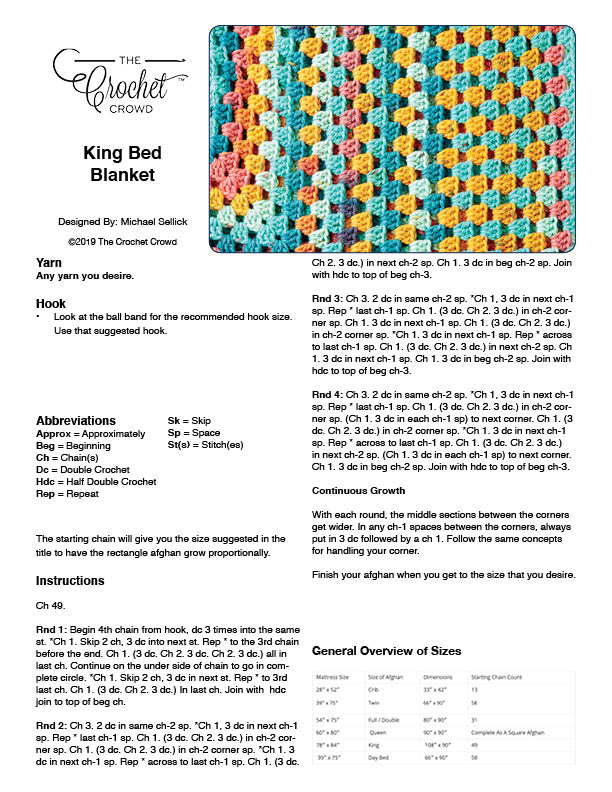 Tutorials
King Size Afghan Tutorial Will Not Be Made as the instructions are provided above and the concept is identical to the two above tutorials.
Granny Square Pattern Ideas