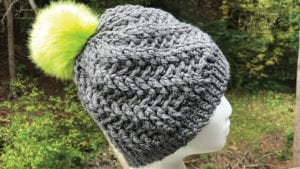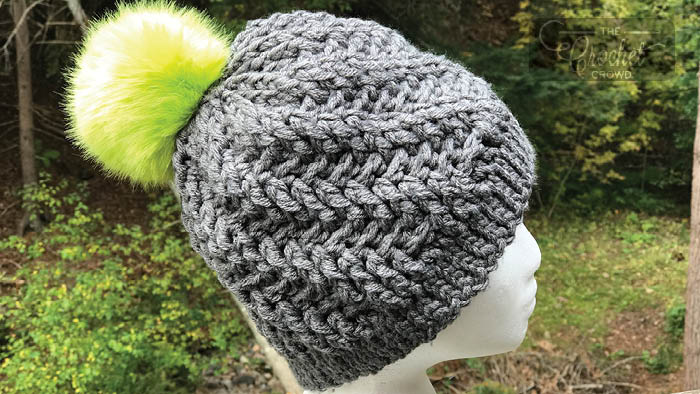 This version of the Crochet Stepping Texture Hat, it's using Red Heart Heat Wave. The original is using Bernat Softee Chunky yarn but I wondered what the hat would be like if it had heating properties like the Red Heart Heat Wave. The yarn warms up to 12 degrees in natural daylight. It doesn't have to be sunny for the yarn to warm up, it just needs to be outside.

To do this hat with Red Heart Wave without changing the pattern, just double strand the yarn. So two strands = 1 thick strand-like Bernat Softee Chunky.
This allows someone wearing this hat to feel warmer and be more comfortable outside for longer periods of time. Think of those living on the streets. While this hat will not heat up if it's inside or in the dark, the natural UV will activate the fibres to warm up. There are no harmful chemicals added to this yarn. It's a fibre that's already spun into it. You would never know it's there and has gone through safety testing. Due to the fibre being spun into the strand, it cannot wash out.
It warms up about 12 degrees but can go as high as 18 degrees. Direct sunlight will activate the hat faster and it takes about 10 minutes for the gradual process to happen. Once you step out of the daylight or when the sun sets, the hat will take about 2 minutes to cool back to regular temperatures.
This yarn doesn't continually heat up indefinitely. It's about 12 degrees before it plateaus. So it will not catch fire with general use. The warning label about not microwaving this yarn is important as some people like to make rice heating bags and such. Yarnspirations doesn't make any yarn that is microwave safe. Due to the yarn activating by the UV Light, they made it very clear on this packaging not to microwave as it will ignite in a microwave.
More Ideas
Tutorial
More Hat Ideas