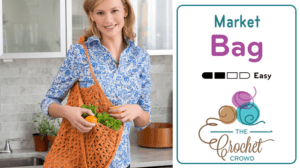 This Little Bag Went to Market
We had fun with this crochet little market bag a few years back. It has an interesting stitch which I hadn't seen before that allows the bag to expand in a geometric mesh formation. It's pretty spectacular.


More Ideas
If you are in the 'market' for a new market bag, you should try this pattern. The tutorial is below to help you with the special stitch that is required.
We have actually done a Challenge with this bag a few years ago. You can see all the different bag colour combinations that were submitted for this same pattern. View The Submissions Gallery
Video Tutorial - Follow Along
Right handed video version is only available for this bag.
More Bag Ideas