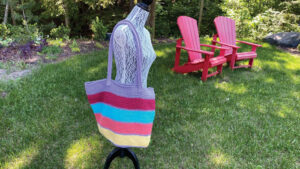 Do you have balls lying around? Do you have colours that just don't go? Try the Odd Ball Market Tote Bag.
I find I get one ball of this colour, another of that and suddenly, I really don't know what to do with the colours. I found this free market bag pattern and looked at my oddballs.
Technically, you need 5 colours. 2 balls of 1 colour and 1 ball of the other 4 colours.
It's a strong and large size bag. It's half double crochet between the stitches in the round below it. So it puzzles together tighter than usually regular stitches. I found myself that I didn't gauge, so I wasn't able to get 9 rounds of each colour. So I did 8 and then added extra rows at the top of the bag.
I literally randomly grabbed 5 colours and just went for it. I'm really happy with how it turned out. The sky is the limit and now an oddball has purposes other than sitting on my shelf waiting for an idea that may never come.
You may want to know, when the ball was low, I just did single crochet around to use the ball up. You barely noticed I improvised.
More Ideas

Tutorial
Not at this time.
More Bag Patterns