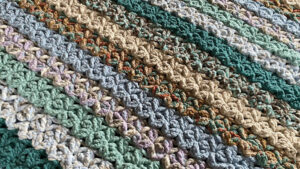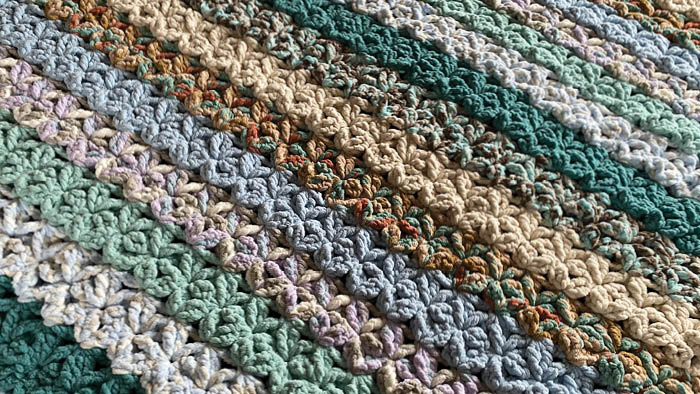 The Crochet Odd Ball Blanket is another morph of the Daisy Stitch using Bernat Blanket Yarn. Great stash busting project and tips to tweak the pattern.
This goes along with 2 other blankets that are showcased below that have the daisy stitch that came out this spring, 2021. 
I get excited in a yarn aisle and then end up with oddballs that I don't know what to do with. I decided to look at my Bernat Blanket yarn stash and puzzle the blanket using 8 different balls. Four variegated and four solid balls. Using the pattern, you can do two stripes per blanket.
A crochet diagram is provided and the stitch multiple to change the size is 4 + 3.
This is using the daisy stitch with trebles as being the base but it's not the first blanket of this style, it's actually the 3rd for spring 2021 trending.

---
More Ideas
---
Puffy Flower Fun Day Blanket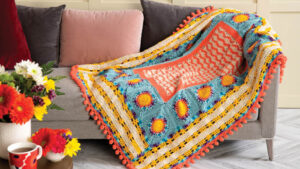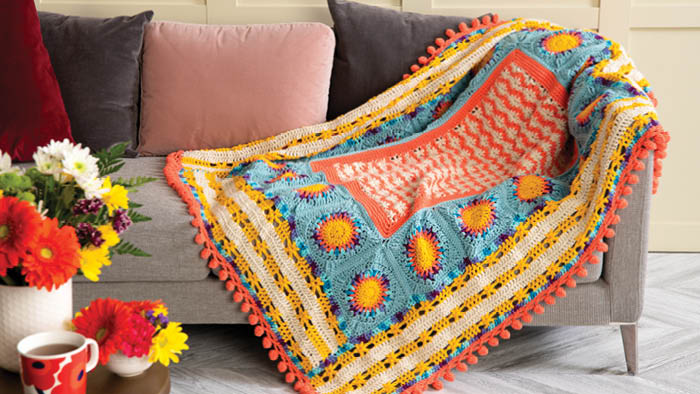 The original trending was the JOANN Spring Stitch Along example. This is where I learned this concept the first time.
This blanket has 2 versions of the Daisy Stitch.
Daisy Puff Stitch with wave row in between is in the centre panel. It's a bit to get used to it but once you got the swing, you should be okay. It's using the half double crochet puff stitching to get this.
Daisy Puff Stripe Stitch is showcased in week 3 that you can see with the yellow and white striping. Again the Daisy Puff Stitch with half double crochet but is spaced out between each other.

---
Crochet Garden Flowers Blanket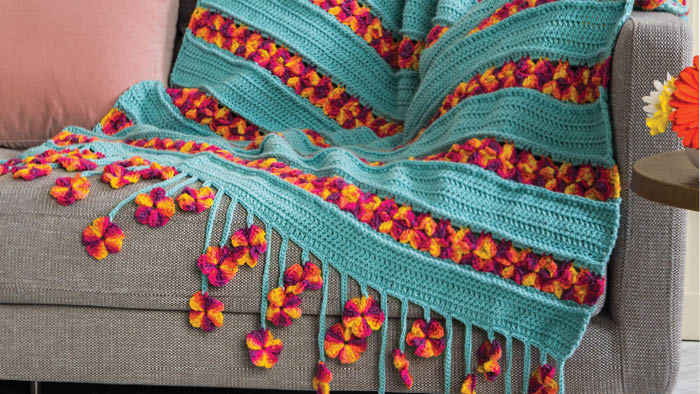 The Garden Flowers Blanket is again the same concept but with a different approach.
The Daisy Stitch is in the orange colour and this time the daisies are pushed up to each other and they share a petal between each other. They are also using trebles to substantially increase the size of the daisy stitch and have faster blanket growth.
This created a textured look but I wondered to myself, what would this look like if there were no buffers in between them and I just change the colour?
So I created the Odd Ball Blanket by using the same concept without the buffers.

Tutorial
More Blankets