Crochet Stash Busting Time Filling Patterns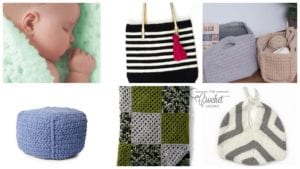 Now is a great time to go through that stash of yarn we have in the corner over there or that yarn ends that were from leftover projects in that basket over there in that other spot. It's a good time to work on projects to fill the time we find our selves needing to fill.
Here in this collection are a few easy projects we can all wip up to bust that stash fill our newly acquired free time and break up the boredom until we are able to fill that cubby with new yarn when we are able to go yarn shopping again. Now is a great time to play with the yarns you have at home, combine some of that worsted weight to make some of those bulky projects you have been eyeballing, learn a new stitch try your hand at a project you would never think of trying before, this is a great time to expand you creative knowledge.
---
Crochet Angel Baby Blanket Pattern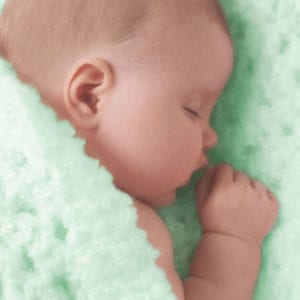 This blanket is so soft and squishy looking like a cloud for the baby.  This Crochet Angel Baby Blanket Pattern was made using Red Heart Baby Clouds, it's not one I have ever heard of before but you could easily substitute any bulky weight yarn. Pipsqueak would be a good yarn to try this blanket in.
This Crochet Angel Baby Blanket Pattern was designed by Marilyn Coleman it's a great easy project to work up if you're looking for a baby blanket pattern. You can use neutral colours if that's what you are looking for,  or fun bright colours whichever you have on hand is a great choice. If you're looking for something like a lapghan for yourself or a loved one in a Nursing home, you could also try this blanket in the Bernat Blanket.

Crochet Mod Chic Tote Pattern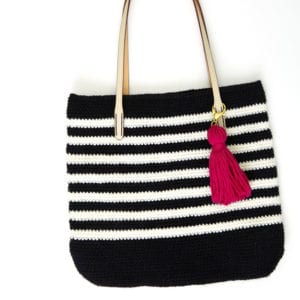 Looking to have a bit of a selfish moment and finally make something for your self? Good, I hope you do. I know I plan on making my self a few things now that I have a bit of free time on my hands. I have some Pantone original and the bamboo that may just make its way into becoming this Crochet Mod Chic Tote Pattern I bought some because I loved the colour but had no clue what I wanted to actually make with it. The perk is if I don't end up keeping it for my self, it's one less Christmas present I have to do either way I'm winning here.
The Crochet Mod Chic Tote pattern was designed by Salena Baca she used Marly Bird Chic Sheep which I believe has been discontinued, at least here it had been if you have some on hand awesome! if not you can easily substitute the yarn like I likely will be. If you're like most people and are unable to get out to get the handles used in this pattern there are tutorials on YouTube that can help you with crocheting your own if that is an option you want to try.

Crochet Usami Basket Patterns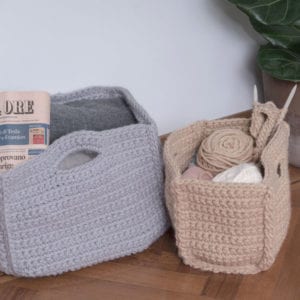 I am a big lover of baskets, I have them everywhere, their great for at home, for craft shows, to give gifts in. Now that most places when open don't offer plastic bags, it's a great idea to have a few larger styles of these Crochet Usami Baskets Patterns in the back of your vehicle for those quick trips into the shops.
This Crochet Usami Basket Pattern was made with Red Heart Ora, not one I'm familiar with, so a safe bet its not one I have on hand at home, I do have all kinds of part balls of the Bernat Blanket that I may try, I also enjoy playing with combining 2 yarns together which I may try using up some part balls I have leftover, on a smaller basket or two. It's a great time to be creative and play with those yarns you have on hand for a bulky project.

Crochet Pouf Pattern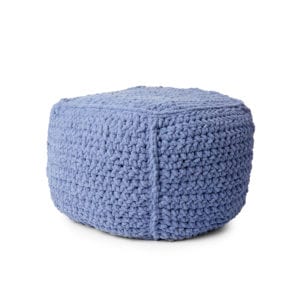 The kids really don't like it when I call them out to be a footrest especially if their in the middle of something important like sleeping, (just kidding I don't really interrupt their sleep). This beginner-friendly Crochet Pouf Pattern is a great pattern to work on, I like to save all my yarn bits so what doesn't go into the Fat Cat pattern may make its what here. Although I'm hesitant to make it, out of fear my youngest will see it as a challenge and try launching herself off of or onto it, she's gone next level fearless the older two never did this so I'm not mentally prepared for her level of crazy.
This Crochet Pouf Pattern was made using Bernat Blanket Extra I don't know this yarn so I'm not sure the weight on it, it isn't listed in the pattern, I feel like its a plus size Bernat Blanket, if you have the normal Blanket on hand you can try it with that if you find it's working up smaller, try with 2 strands of the Blanket yarn. Post photos of this one done and let me know what yarn you used.

How To Crochet A Blanket Pattern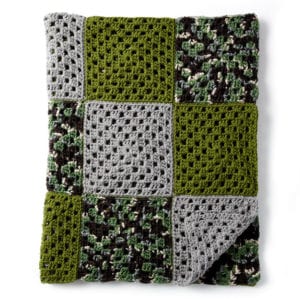 Are you looking for a nice easy way to use up those part balls that you don't know what else to do with? This How To Crochet A Blanket Pattern is a great way to use up that yarn and end up with a fun blanket when you are done. If you like you can go with an actual plan with how you would like to place your squares, or blindly grab a ball of yarn attach as you make them see what kind of fun and crazy creations you can come up with.
This How To Crochet A Blanket Pattern was made using Bernat Softee Chunky, you can defiantly follow along with that if that is what you like, or work from your part balls and see what you come up with, either way, I'd love to see photos and see what combinations you all come up with if you make this blanket.

Crochet Boxy Bento Bag Pattern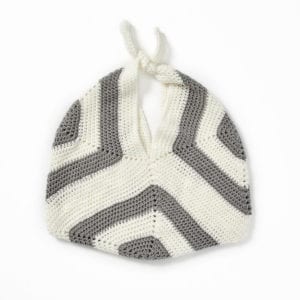 The final pattern in this collection is this super awesome Crochet Boxy Bento Bag Pattern and I am loving it, I have some Caron Big Cakes this may be what one of the colours becomes, What's amusing is I have a wrap that I've been wanting to do, that has a similar approach which means I HAVE to do both now right!?
This bag is super adorable I'm not sure if it's been lined or not, you could easily if that's something you wanted to do, or just leave it as is. The Crochet Boxy Bento Bag Pattern was made with Red Heart Super Saver you could use that or any worsted weight you have at home. I would love to see photos of your finished bag, see what combo's you ended up with, Spring colours would be great to use right now, something nice and cheery.

Tutorial
By guest host for Yarnspirations.com.
Pattern Suggestions
Crochet Pattern Ideas