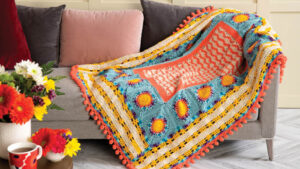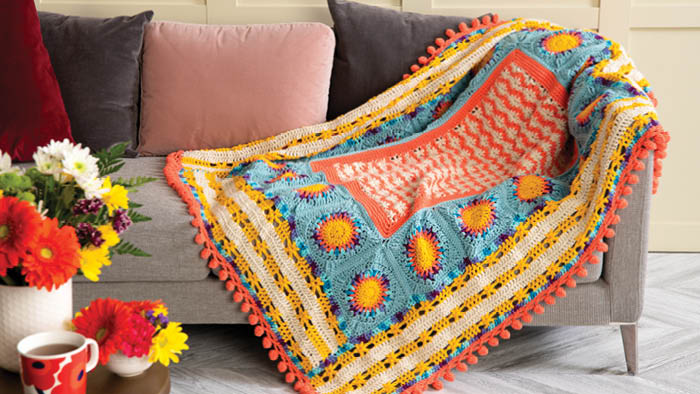 The Crochet Puffy Flower Fun Day Blanket is a stitch along with our friends at JOANN.
Its original thought was to learn gauging by using modern blooms as a feature. The finished blanket is approximately 50" x 58" without the pom-pom bobble trim.
In this stitch along you can expect to learn the following over the next 5 weeks (tutorials).
Gauge Importance
Blocking
Puffy Flower
Bobble Pom Pom Stitch
Puff Stitch
Puff Daisy Stitch
Puff Flower Stripes
Flat Stitch Joining


View or Download the Materials List
Click the picture to download the shopping list or just click here.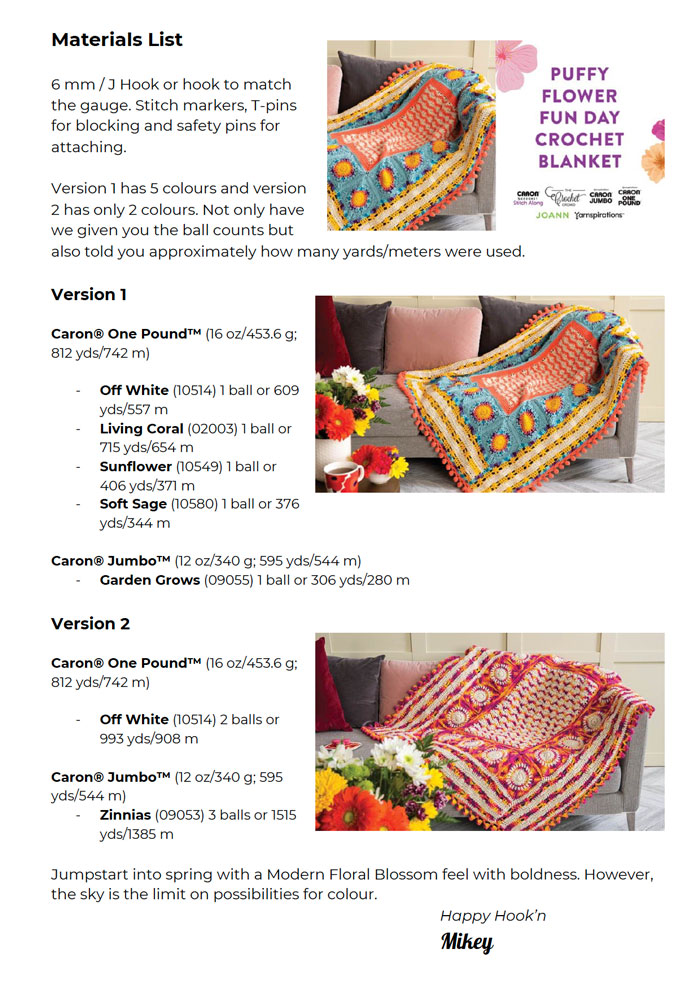 Tutorials are at the bottom of this article and will release as they are revealed each week. 
---
Alternative Colour Options
Due to inventory levels, Yarnspirations has come up with more colour options but there's not a sample done with it at this time.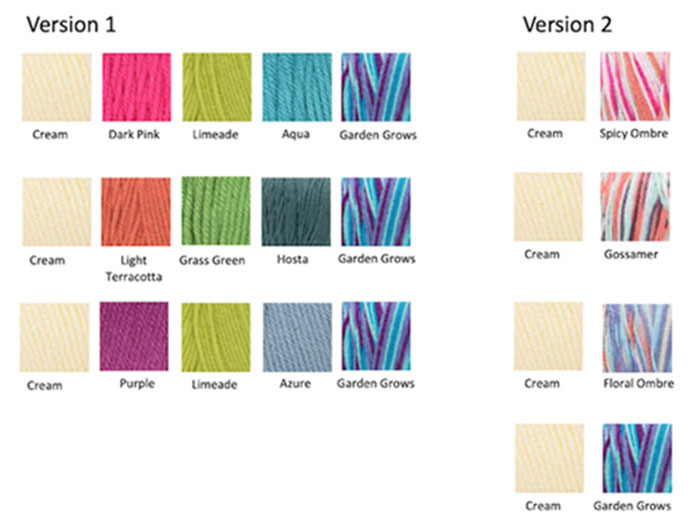 ---
Introduction Video
---
Yarn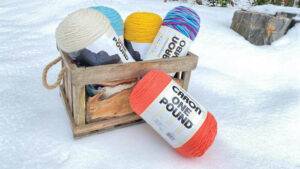 This is a JOANN Program using yarn that they have on the shelf and on JOANN.com. Keep in mind, not all locations of JOANN will have this yarn. JOANN doesn't ship beyond the USA.
There are two different versions of this blanket but the only difference is the colouring.
In version 1, there are 5 colours in play that include Caron One Pound's Off White, Living Coral, Sunflower, Soft Sage and paired with Caron Jumbo's Garden Grows.
In version 2, there are only 2 colours used which are Caron One Pound's Off White and Caron Jumbo's Zinnias.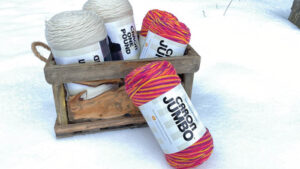 Both colourways pop! The pattern colours are meant to jump out of the background with a modern blossom feel to mark 2021's spring season.
For those who don't have access to Caron One Pound, we have the yards and meters for each colour. Just look at the ball band for the yards or meters if you are substituting. This is also listed on the pattern, so it's not top secret.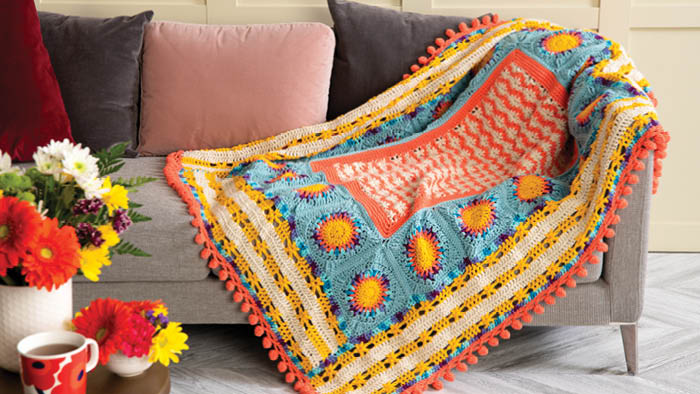 Version 1
Total yards and meters for the colour are at the end of each line.
Caron One Pound, Off White 1 Ball - 609 yds / 557 m
Caron One Pound, Living Coral 1 Ball - 715 yds / 654 m
Caron One Pound, Sunflower 1 Ball - 406 yds / 371 m
Caron One Pound, Soft Safe 1 Ball - 376 yds / 344 m
Caron Jumbo, Garden Grows 1 Ball - 306 yds / 280 m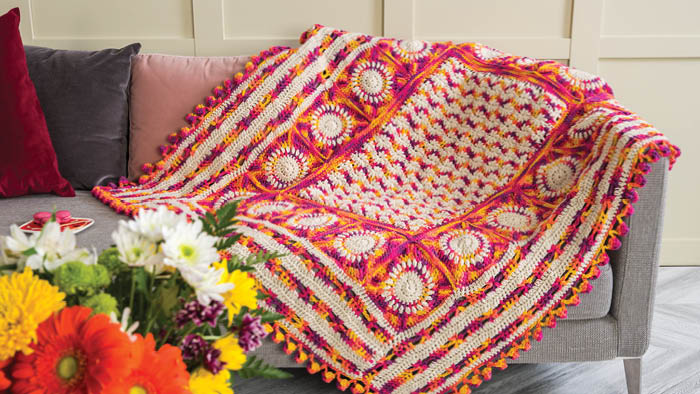 Version 2
Total yards and meters for the colour are at the end of each line.
Caron One Pound, Off White 2 Balls - 993 yds / 908 m
Caron Jumbo, Zinnias 3 Balls - 1515 yds / 1385 m
---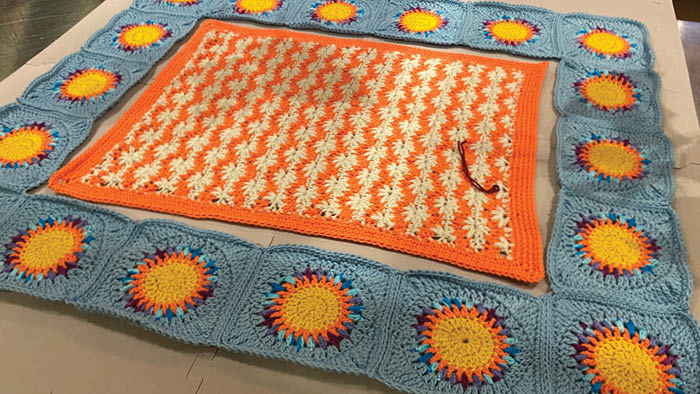 ---
Last Year's Stitch Along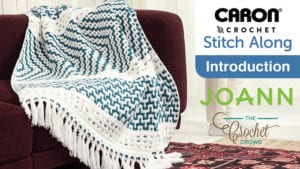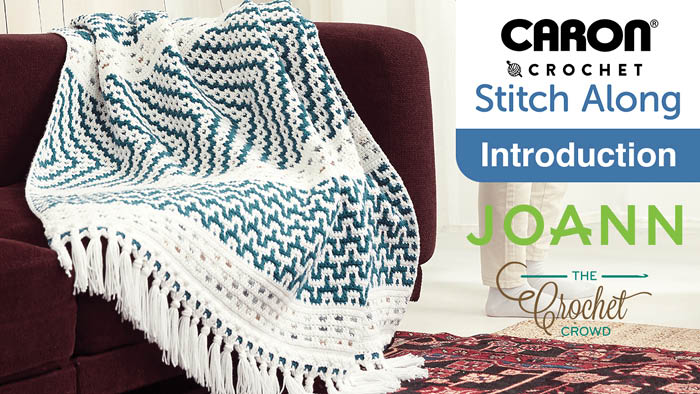 This crochet blanket is called the Woven Pattern Mosaic Crochet Blanket designed by Erin Black for Yarnspirations.
It is a crochet stitch sampler and one of Erin's strengths is overlays and building patterns by having colours jump in front or behind stitches to form the shapes.
The blanket is 50" wide x 61" long.


---
Gauging
You will see the hook size is 6 mm / J Hook. However, we will be running gauge checks. In certain weeks I used a 6 mm / J Hook and other weeks I used a 6.5 mm / K hook instead to match the gauge. Your gauge checking is important.
When piecing together projects, many of us, including myself, end up with projects where we question our sanity of whether things will fit together properly. Gauge checking is also critical in wearables where something must be close to fit a person or object.
Erin Black, Yarnspirations Designer, wanted to convey the importance of gauge for lessons that we will take with us for a lifetime. If you follow the gauge on this example, you will have a perfectly flat afghan. To some of you, that may be an accomplishment on its own.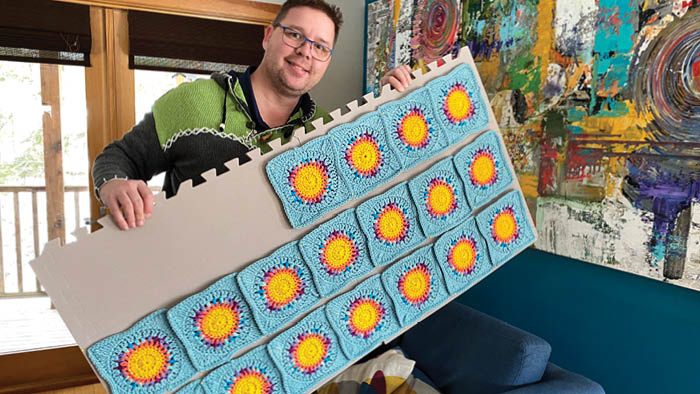 During critical moments, we will do wet blocking and that is demonstrated in the tutorials as well. I found I blocked around supper time, took the damp towel off by 9 pm and let the project dry overnight before continuing on. For the squares, I didn't get right back to the project the next day and left it pinned to the board for a few days.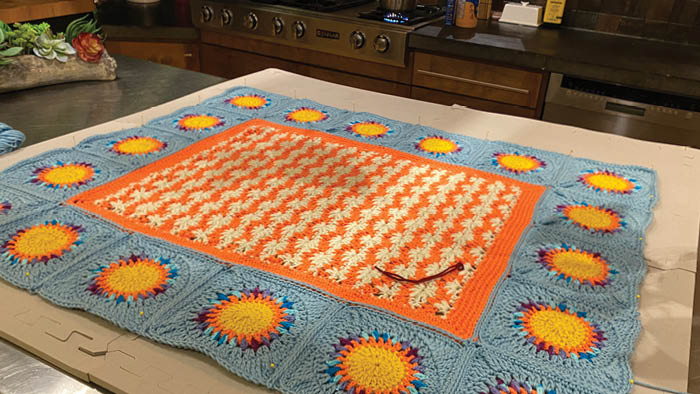 Look at how well that centre rectangle puzzled in. I was in disbelief. No camera tricks or angles! It worked. 
---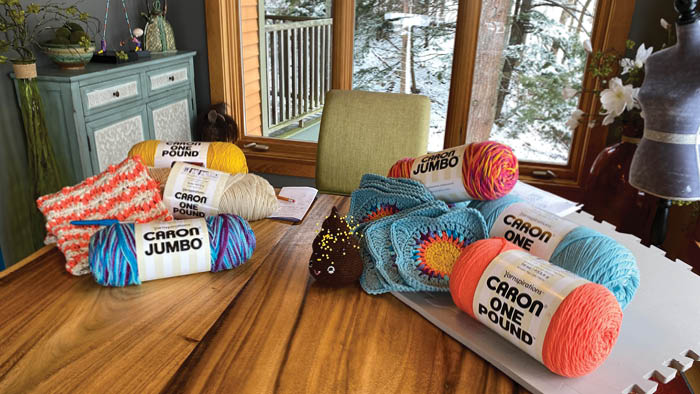 During the Making of The Tutorial
The original series was to be 4 weeks but I noticed that my own flow and zen were interrupted by doing the gauge swatches. For when the gauge is critical to know, I would rather know what my outcome is to be and when I am ready for the pattern itself, I am excited to go.
The gauge swatch of Week #1 will allow you to get an understanding of the Daisy Puffy Stitch and get used to it before actually doing it on the project. I found myself, after a few rows of it, my consistency locked in on the gauge itself. Once I was ready for the actual project, my consistency was already set in my hand tension on knowing what to do.
So the gauge check will include the fancy stitches to get an advance preview. The gauge will also be able to do the square to check it but the tutorial to actually do the square is in Week 2. So you will be able to try the square motifs in advance as well.
During a meeting, I tabled the idea of pulling the gauges out of the pattern and push them a week early before the Stitch Along began. This would allow people more time to do their gauge checks in advance with the yarn they have selected. So thus, there's a pre-week to this Stitch Along.
By the time you hit weeks 1 to 4. Your gauges are already known. This means, once you get your clues, you already know your hook size and tension so you can start right away. I would rather know these details before a project begins, versus midway through.
---
More Ideas
---
Tutorials
Tutorials will release in both right and left-hand versions as they come out each week. Each video is closed-captioned and the language can be changed using the subtitle option.
March 22nd - Pre Week
March 29th - Week 1
April 5th - Week 2
April 12th - Week 3
April 19th - Week 4
https://youtu.be/k4vuyO9ZPaU
More Stitch Alongs