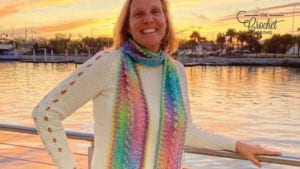 Crochet 'Totally' Hairpin Lace for Beginners
This pattern was developed by our own Daniel using two crochet hairpin lace strips that are joined together. Like many designs Daniel has, he shares the idea over and then collaborates with either myself or a pattern tester. In this case, he collaborated with our fabulous friend, Anita.
Anita's example turned out absolutely beautiful. You can have one of these scarves too.
Daniel tried hairpin lace many years ago with just a few stitches but never did anything with the idea. Both Anita and I (Mikey) had never done hairpin lace before. So it was a learning curve for both of us. This is the Crochet Totally Hairpin Lace Scarf for Beginners.


So each of us has a beginning perspective on this concept. It's not hard, it' just hard to get started if you haven't done it before. This gives us the advantages of not assuming we know everything and from a true beginners' perspective.
Anita used Red Heart Unforgettable with her example. When we say beginners, it's for beginners of this concept, not absolute beginners of not knowing how to hold a hook.
Tutorial
The tutorial will show you how to start your loom, what things to watch for. How to join your loops and how to crochet along with the side loops. This tutorial ends at the first row of single crochet on the side loops. The pattern picks up for that point if you wish. You can also deviate and do your own thing too!
More Scarf Ideas