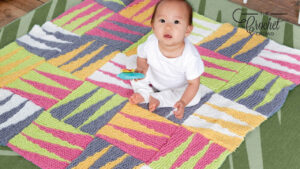 The Knit Dino Claws Blanket is visually stunning. Knit wedges with colour play.
This blanket is done in squares and then joined together to form the look. See the pattern for a straight-on version of this to see what it looks like. It's really well done.
This makes for carryable yarn projects as the pieces are done in mini squares so you can take it on the bus, transit, car or wherever you find yourself.
More Ideas

Tutorial
Not available at this time.
Crochet Afghans