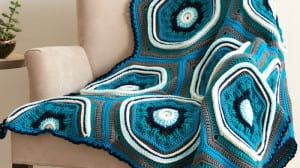 Stitch, Stop & Roll Afghan
Learn how to do my Stitch Stop & Roll Crochet Afghan. It's vibrant and filled with textures and techniques to enhance a crocheter's skills while making an incredible afghan at the same time.
The name comes from the fact of the raised roll that appears that is three dimensional. So you have stitch, then stop, roll and proceed.


The colours of this afghan were decided by Diva Dan. He has a gifted touch for mixing colour palettes. For me, my favourite design is the Boldy Urban, for Div Dan he likes the Refreshing Soda version. We expect crocheters will change up the colour even more giving this project a completely different look.
The pattern is free and there are 5 pre-assembled kits if you would like to match the colours precisely to one of the 5 designs. You can also look at the free pattern and decide your own colour palette too.
Tutorial
78 Color Combinations with Red Heart Super Saver
More Afghan Ideas