Feel Good Charity Challenge
Charity Challenge
Crocheters for several years have requested one of our challenges be charity oriented. Most of the crocheters that have requested that asked us to feature a certain charity and have everyone send their donations to one charity to qualify. To be open to our global audience and looking to our own community. We are officially launching the Feel Good Charity Challenge.
For our challenge, we want crocheters to help their own local causes and charities using our challenge. That's right, you may know kids in need in your own community. You may have homeless individuals, women's shelters, hospitals, schools or clubs in need of donations. What we will require from you are photographs of your finished items. You keep the items you make and forward them to a cause you believe in.
We have 3 different categories for prizing. All winners are randomly chosen. We have chosen 7 projects that qualify for the prizing. There is a total of 17 different options within the 7 projects. For example, the hats come in multiple sizes. To help you further, I have created all tutorials for every size and project for this challenge. The Challenge not only is to learn from these simple and wonderful patterns but to help your local charity or organization. Only the patterns given below are eligible to enter into the giveaway.
Main Menu
Click the Menu Option to Auto Scroll
Prizes
We have 1 prize each for the hat category and afghan category. We have one mega prize for the community leaders category. Check it out!  Also, 4 runner-ups will be featured in the Mikey Magazine to bring awareness of your organization.
Hat Category = 25 Caron Simply Soft Yarn. With shipping and handling to the winner = $122 USD or $155 CDN.
Afghan Category = 25 Caron Simply Soft Yarn. With shipping and handling to the winner = $122 USD or $155 CDN.
Community Leader = 50 Caron Simply Soft Yarn. With shipping and handling to the winner  = $240 USD or $305 CDN.
Pictures are showing 25 balls of yarn for the hat and afghan category. Community Leader picture is showing 50 balls of Caron Simply Soft Yarn. Colours on display are a representation of Caron Simply Soft Yarn. Colours in prize packs may vary as it's being shipped directly from Yarnspirations. Prizes are not exchangeable for other yarn products or for cash equivalent.
Hats Category
We have chosen 4 different styles of hats that are accepted into our challenge. Your hats must be these designs to qualify for the prizes.
To qualify for our prize, you must complete a minimum of 12 hats from anyone of the 4 designs. Yes, you can mix and match the 4 designs to make up 12. So you can pick 3 of one style, 3 of another and 6 of another. You can complete any size in the 4 different hats. Choose hats that are best suited for your charity outreach. While it's true that preemie hats take less time than the child and adult sizes, let's not loose sight that this is for charity.
Each group of 12 hats counts as one entry. So if you do 36 hats, that's 3 entries for the prize. If you decide to make 36 hats, we will need to see all 36 hats in one photo to be able to count and verify style. We are only accepting the designs we have posted to be fair to all.
Here are the styles we are accepting. You can add on flowers or embellishments but the base pattern must be as stated in the pattern to qualify. Each one has a video tutorial for both Right and Left Handed.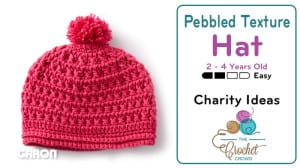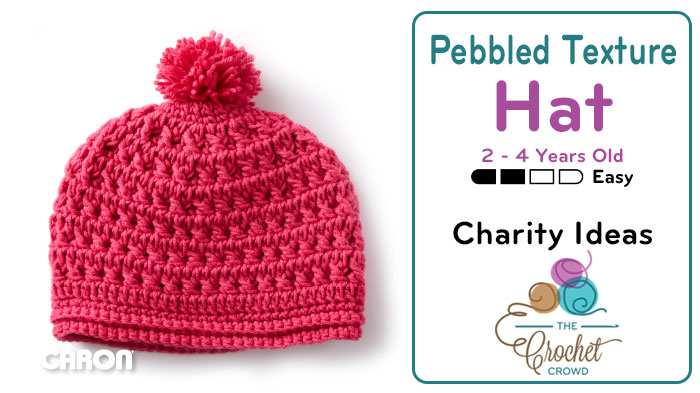 Pebbled Texture Crochet Hat
The Pebbled Texture Hat is a playful and texture rich pattern. The recommended yarn for this hat is Caron One Pound Yarn. It involves single crochets and front post crisscross double crochets. It sounds more complicated than it is. The lovely thing about this pattern is the decreasing of stitches happens in the single crochet rounds, which means it's not very complicated to following the pattern. The pattern comes in 3 different sizes, 2 – 4 years old, 8 – 10 years old and adult size. Below are the pattern links and video tutorials for each: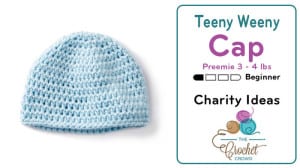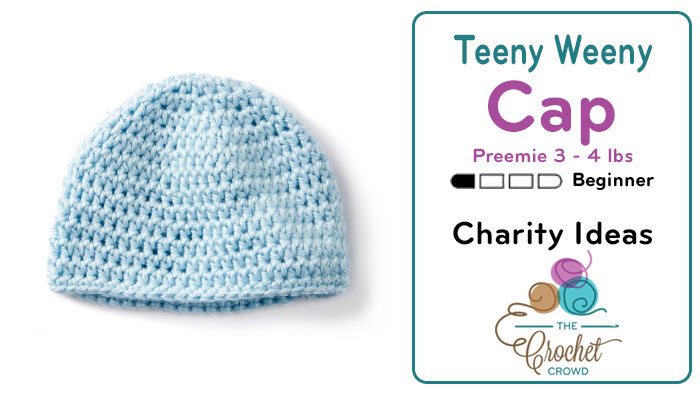 Teeny Weeny Crochet Hat
The Teeny Weeny Crochet Hat is a simply half double crochet hat. The recommended yarn for this hat is Caron Simply Soft Yarn. In this hat, the growth rounds are really easy to follow with easy to understand repeat patterns. The growth of the hat is determined really quickly in this pattern. Due to the simplicity of the stitches, you can finished these quickly. The pattern comes in 4 different sizes, 3 – 4 lbs preemie, 5 – 6 lbs preemie, newborn and up to 3 months. Below are the pattern links and video tutorials for each: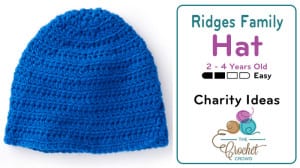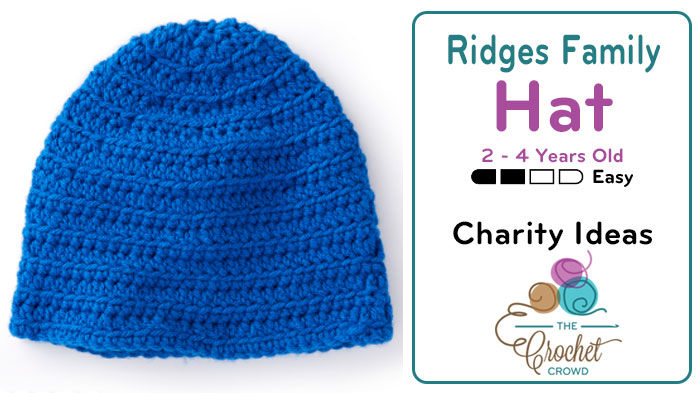 Ridges Family Crochet Hat
The Ridges Family Hat is classified as unisex. The recommended yarn for this hat is Caron One Pound Yarn. The design is simple enough for the men of the world not to flip out. The design has horizontal lines achieved by back loops. One row is simply single crochet while the next row has half double crochets in the back loops. Nearly all of the decreasing happens in the single crochet rounds which makes this easy to make. It also starts off at the brim and works it's way to the top. I really see this hat in the adult sizes being exceptionally useful for street kids and homeless. For the child sizes, they are plain which makes kids less of a target for bullying at schools. For the toddler size, you can have a playful nature with colours and more. This hat comes in 3 different sizes which include 2 – 4 years old, 8 – 10 years old and adult size. Below are the pattern links and video tutorials for each: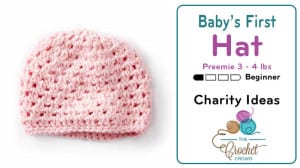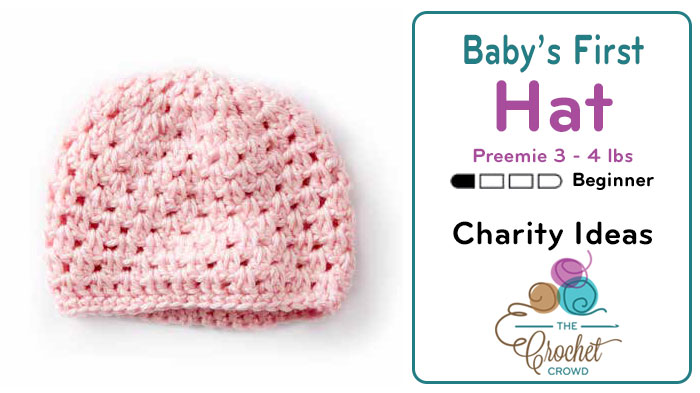 Baby First Crochet Hat
The Baby's First Hat is a relatively simple design using 2 double crochet together to form what is called clusters. The recommended yarn for this hat is Caron Simply Soft Yarn. The growth of the hat is between Round 1 – Round 4. The rest of the hat then grows organically to the correct size on their own. To help crocheters further, I used a homemade crochet diagram in the tutorial and have provided that for each size to show the Round 3 – 4 growth increase locations. Due to the clusters, it's not always obvious where the growth of the hat should be. This hat is available in 4 different sizes which include preemie 3 – 4 lbs, preemie 5 – 6 lbs, newborn and up to 3 months. Below are the pattern links and video tutorials for each:
Hat Guidelines
Yarn recommendation has been suggested on each pattern provided. You can substitute with any yarn you wish.
You can do the hats in any colour you wish. Hats can be done in variegated or multiple colours used in one hat. That's your creative choice.
Hats must be completely finished with the pattern being completed fully and the tail ends woven in. However, the pom poms are optional for you to complete.
Adding pom poms to the top of the hats are your choice but are not required for final submission. The pom poms add extra oohs and aahs when donating as they add extra cuteness.
You must use the pattern indicated in the different 4 hat designs.
You can complete any size in the 4 hat designs to make up groups of 12. Your picture should have all 12 hats in the same photo. Do not send a picture of each hat individually. We will not accept those as entries.
Every group of 12 hats is considered one entry for the prize.
Should you wish to enter more than once, we need to see each hat in a group of 12 and then a picture of all of the hats together to ensure there is a correct amount. For example. If you do 36 hats, you need to submit us 3 photos showing us groups of 12 but then submit one extra photo showing all 36 hats together to verify your 3 entries. We need to each hat clearly in the photo to verify the design and counts.
When taking your photo, we need to clearly see each hat. We will not accept photos where the hats are stacked or staged in a way that we cannot verify the count and/or design used. The two pictures below are examples of what we will not accept for photos. Please lay out your hats in the photograph so we can count and see each design clearly.
Afghan Category
For the afghan category, we have chosen 3 different designs to play with. For this category, your afghan must be one of the 3 designs we have.
Each finished afghan counts as separate entry. Crocheters over the years have requested that we have challenges with baby size afghans, so for this category, we have 2 of the 3 as baby size. The Big Granny Square is the only size that is larger.
For the afghans, you are welcome to submit larger sizes of each of the 3 designs but may not submit anything smaller than what is in the pattern.
For the afghans, you may add on more than the border that is assigned to the pattern. You can also add on embellishments such as crochet flowers or more. You can also add on fleece or equivlanet backings to the afghans for extra warmth.
I have provided video tutorials for each of the 3 designs. Pattern and video tutorial is listed in each option.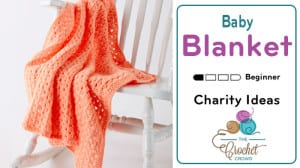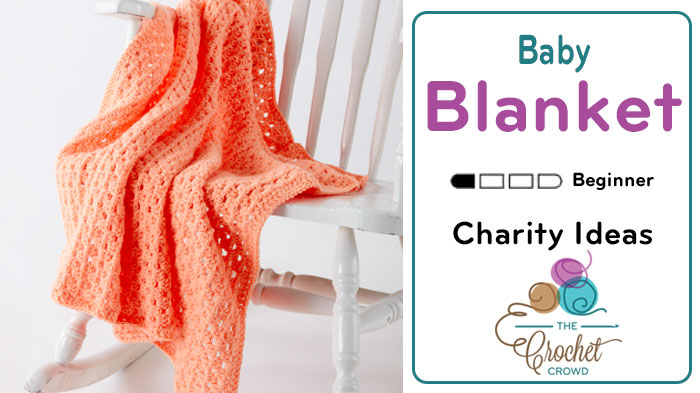 Easy Peasy Baby Blanket
The Easy Peasy Baby Blanket is 40″ square. Yarn recommendation is the Caron One Pound Yarn. Due to the thickness of Caron One Pound, these afghans will get to their finished sizes really quickly. The pattern consists of a granny effect done in rows back and forth. If you have ever wanted to do a granny look in rows instead of a square, this is a great beginner tutorial option. There is one border assigned to this pattern. You can embellish to add more to the border should you wish. To submit this blanket to us, there must be a border whether it's the one one the pattern or something more creative. You can add on extra embellishments or add a backing to this afghan if you wish.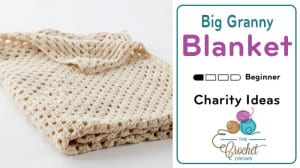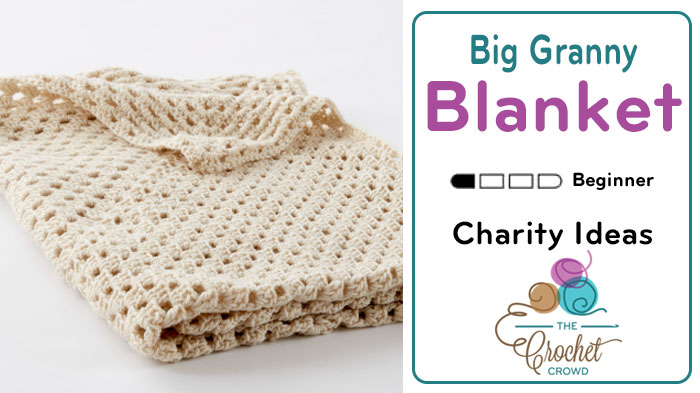 Big Granny Square Afghan
The Big Granny Square Afghan is exactly as it sounds. It's one large granny square that measures 56″ square. Recommended yarn is Caron One Pound Yarn. This afghan starts off in the center and works in a square going outwards to form a large square. Afghans like this generally are really quick. These also make a great beginner project and for experienced crocheters, a great TV project without having to look much at the project. The afghan submission should be 56″ square, please take a photo showing us your entire afghan. In the event we think it may be too small, be prepared to take a photo that has a measuring tape laying down on the afghan to verify the size. We are only accepting 56″ in square or larger for this design.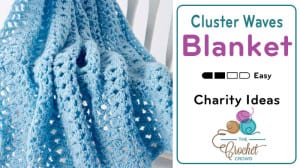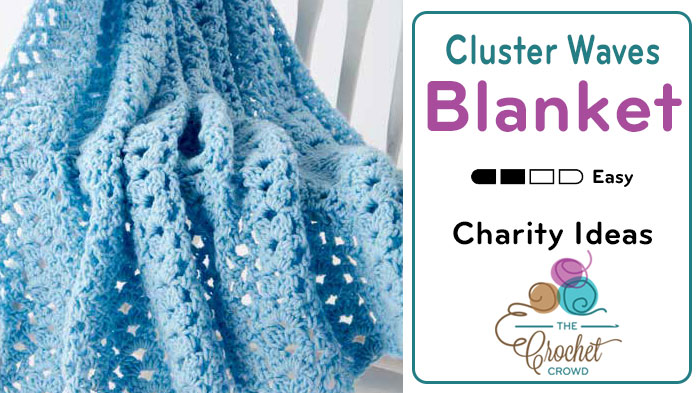 Baby Cluster Waves Blanket
The Baby Cluster Waves Blanket is a wave pattern that is 38″ x 44″ long. The yarn recommendation is Caron One Pound Yarn. There is a total of 10 waves across for the pattern given. When submitting this to us, we will be looking for the 10 waves to verify the sizing. The afghan should not be square as it's slightly longer in length. This pattern is extremely easy once you are past the 1st row. The repeat pattern is every row once you are beyond row 2. It makes for an easy to remember pattern. There is crochet diagram provided in the pattern to help you further. You are welcome to make this afghan bigger in width with adding more chains. The multiple chain counts to make this bigger are 12 + 3 as explained in the video tutorial. Each wave is made up of 12 chains and then at the end of the row, you add 3 extra chains to ensure the pattern stays in balance; therefore, giving you a multiple of 12 +3.
Afghan Guidelines
Only these three afghans will be accepted for our afghan category.
Each afghan counts as a separate entry. The more afghans you complete, the more chances to win. Charity will also benefit from your effort too.
Yarn is recommended in each pattern. You are welcome to substitute with different yarns if you wish. Should you be substituting, yarn ball count recommendations for any other brand is up to you to figure out.
Your afghan can be any colour and be a mix of colours if you prefer.
You may add a different border to your afghans. You may also add embellishments.
You must complete the afghan size as stated in the pattern. In the event for the Cluster Waves Afghan that your tension is tight and the afghan is not as wide as stated, we are still looking for a minimum of 10 waves in the width.
Your afghans can be bigger if you wish. Both the Easy Peasy Afghan and Baby Cluster Waves has information for the multiple counts to make larger sizes. Smaller than stated in the pattern afghan will not be accepted for the prize.
For the pictures, the afghans must be laid out to see the entire afghan. The picture above for this section would be an example that would not be accepted. We need to see all 4 edges of the afghan. Please lay out or drape your afghan in a way that the entire afghan can be seen.
In the event that we feel the afghan is too small, we may contact you to retake your photo using a measuring tape in the photo to prove its size.
If you have completed more than 1 afghan for submission and they are the same colour and pattern. Please take a separate photo showing all afghans grouped together. One photo of each of the afghans.
Community Leaders Category
The Community Leaders Prize has one mega winner will receive 50 balls of Caron Simply Soft yarn. We will select an additional 4 other selections that will receive an honourable one page feature in a future edition of the Mikey Magazine.
Community Leaders also qualify for the Hat and/or Afghan Categories as this Prize is for those who go the extra step and show us that you have delivered your items.
Using the projects that were given above, this prize will be awarded to a random selection in this category who shows us, through community leadership, the act of delivering their finished items to a charitable outreach in their community or to an outreach where the item is shipped to the outreach. As well as written information about why they have chosen that charity or organization.
Outreaches Can Include The Following:
Charitable outreaches can include ANY of your favourite outreach charity/program that will accept and forward your donations to those in need.
Entries
Using the projects listen above, each finished afghan counts as a separate entry for this category. Every group of 12 hats is also counted as a separate entry. The more you donate, the more chances you have to win this category.
For example, inside your package is 2 Easy Peasy Afghans, 1 Cluster Waves Blanket and 24 hats. This would be a total of 5 entries for this category.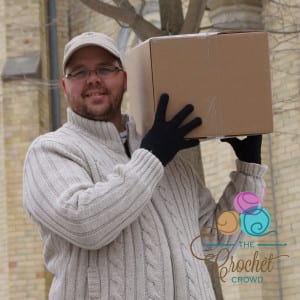 To Qualify for Community Leaders
You must submit to us a few things to verify that you are indeed a Community Leader:
5 Easy Step to Qualify
Step 1: You must take pictures of all of the items that are in our above challenge categories prior to packing your box/bag. ie) Take photos of the hats grouped together in 12. Each Afghan should be taken individually. In the event that there are hats or afghans that are duplicates of the same colour, take a group photo to prove they are all there. This prevents anyone from telling us there is 5 afghans of the same colour and it's the same afghan posed in 5 different ways.
Step 2: Take a picture of the items in the bag or box prior to closing up the bag or box.
Step 3: Take a minimum of 3 photos of yourself delivering your items to your organization. If there are bystanders in a public building, be sure to either get their permission before you take a photo or take the picture at an angle that the people in the background cannot be identified for privacy reasons. We will not be using photoshop to cut people out of your photos. We leave that to your responsibility.
If you Mail your donations…
Community Leaders Post Office

If your outreach involves shipping the box(es). You may take your photo at the post office or courier outlet. If the courier or postal service comes to your door, ensure you take a photo showing the handing over of the package. You don't need to show us faces of the pick up driver or staff at the post office. If they wish to pose, that's up to you to ask for permission before you snap a photo.Take a photo of the from and to address on the package to send to us. We will not use these photos on our gallery but we will use it to verify the outreach.
In total a minimum of 5 photos (charity selfies if you wish) to qualify.
Step 4: Write-Up About Your Outreach
We require you to submit us through email approximately 100 words write up about the outreach that you have chosen to support. This is your opportunity to share with others what compelled you to choose that outreach. It will also give the charity an opportunity to have a chance to be featured for other crocheters to learn more about that organization.
Talk about the charity. What are their goals and outreach?
Why you selected the outreach?
Why others should consider that charity you have selected?
If writing is not your strong suit, we will do our best to correct spelling and grammar. We may re-phrase your write up for flow as well.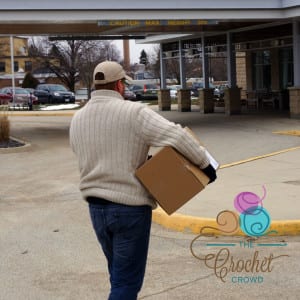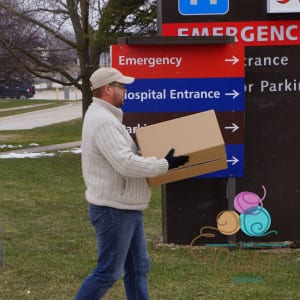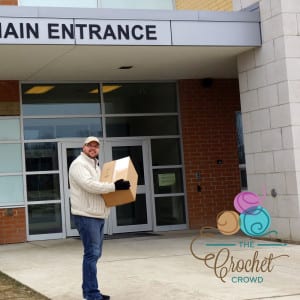 Falsifying Delivery for this Prize
Being this is a charity oriented challenge, we expect all participating in this category to be honest. In the event that the delivery process has been faked, we leave it to Karma to sort those individuals out. If something doesn't look right or feel right, we will contact individuals for follow-up.
Step 5: Send all photos and write up to the information below on 'How to Submit'
General Guidelines
There is no sign up required to participate. Complete the project and email your photo when you are done. This challenge is open to all Crochet Crowd Community Members. If you are a member of The Crochet Crowd, you may participate.
You may use any yarn you wish. You may substitute your yarn for any brand or colors that you desire. You may create any color scheme. Use as many or as little colours as you prefer.
You may do as many projects as you wish. If multiple entries are identical, a picture showing the projects together to prove their are multiple must be included with your submissions.
We require your photo to show the entire project so we know the entire project is done. The project must be showing all of the project for us to count rows in the picture to ensure the projects are complete. Ensure your project is completely finished with yarn tails and etc not showing. It's like giving it out as a gift, we want to the see the photo showing as if you were gifting us the finished product. This way we know you are completely done.
If you are changing your hook size, we are still looking for the pattern to be the same. For the afghans, it just will mean you will have to do more stitches to get to the finished sizes if you are substituting for a smaller hook.

The projects must be the same stitching as indicated in the pattern. Do not disqualify yourself by changing the pattern stitching. Submission of a project equivalent to the project but isn't the same will not be accepted.
Crocheters Choice: After your pattern instructions are complete, you may add embellishments, borders and etc to the pattern to push your creativity further.
All photos must be submitted during the challenge time frame only. Entries after this due date will be accepted for our gallery but there are no prize giveaways after the deadline.
Your Choice: Post your finished project on The Crochet Crowd Facebook Page to show everyone your finished work so we can drool over your creativity.
When you email your finished photo to us, we respect your privacy and will only post your first and last name on the picture in our gallery with the photo so we can identify the winner at the end.
Featuring on Facebook is dependent on you. We do not upload your emailed photos to Facebook. You have to do that yourself if you want to Show N Tell your creativity.
One random choice for each will be made at the end to select one winner. It's a lottery system and everyone has a fair chance to win.
We are not responsible for undelivered email and/or late entries to qualify for the prize.
Due to the countless technology platforms and services, we are not responsible for any of our challengers if a mobile devices or technology that isn't compliant to being able to read our website, view our videos and/or get access to the free patterns.
All applicable federal, state and local laws and regulations apply. Void where prohibited or restricted by law.
Please verify your entry is in our gallery prior to our draw. We need up to 2 days to get your entry into our gallery. We upload it ourselves as part of our review process. If you do not see your entry, we most likely haven't received your email. Do not wait until after the draw to check if your entry is in. 
This is intended for a fun community challenge only. We each are deserving of the highest praise possible for our own creativity. Let's have fun.
How to Submit
Please read the guidelines below to understand what we are looking for.
Send your photo to us through email to inquiry@thecrochetcrowd.com.
Use Subject Line: Feel Good

In the email leave us the following information.

Your Full Name
Your Mailing Address
Name of Category Your Are Submitting.
If submitting for the Community Leaders, be sure to read the guidelines in that section to provide all requested information and photos to qualify for the 50 balls of yarn.

We will not be adding your name or email to our database.
We are accepting entries from April 10th – May 31, 2016. Winners will be drawn June 7, 2016.
Submission Galleries
We require at least 4 days of processing time to accept, review and enter your pictures into our official galleries. Unfortunately, due to things we cannot understand, we don't always receive emails as our server may not receive your email and/or emails can get lost in cyber space. In the event after 4 days you don't see your entry put into our gallery. Kindly email us back with the picture once again. If your entry doesn't qualify, we will contact you. The chances of your picture not in our galleries is most likely your email not being received.
Random choice winners will be selected from these galleries.