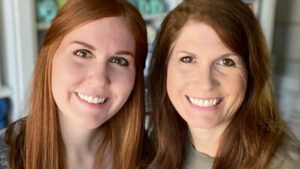 Tiffany and Hannah from Daisy Farm Crafts is our next choice for gift giving 2021. They are Stitch Ambassadors of Yarnspirations, along with us. Speaking honestly, I don't know much about Daisy Farm Crafts but their work speaks volumes of their professionalism and attention to detail.
I mean honestly, how can they get those studio-quality photos from their kitchen table? They make it happen.
They are a mother-daughter dual from the USA and inspire us constantly with their creations.
Backstory
I have seen both of these during yarn summit meetings. Both with pens in their hands taking notes and asking smart questions that benefit us all. Their best asset is their curiosity to create. At times, they ask questions that I didn't know to ask.
There is a genuine love of the craft and it seems their ideas are bigger than their own capabilities to create. For us behind the scenes, that's a terrific problem to have as getting stumped on what to do next is on their backburner of ideas.
They are known for their quick tip tutorials and have had really excellent results on Instagram and Pinterest. It's definitely easier when there are two people at the helm to push the other.
The Differences of Stitch Ambassadors
All of the Stitch Ambassadors have a unique role with Yarnspirations. I find that their stitch video presentation quality is second to none. Speaking language we know and giving those close-up views we crave! Judges award full 10's across the board! I admire these two women for helping us see glimpses of what is possible with yarn. Then showcasing what they learn with us.
Like the other hosts such as Jonah, Tamara, Marly and Sarah, we each present our skills in a unique way for our own community base. Yarnspirations brings us together to continue our presentations with their support.
---
6 Choices Selected By Daisy Farm Crafts
Each Stitch Ambassador was asked to select as many choices for The Annual Holiday Guide 2021 that they felt their communities would enjoy. You can see all ambassador choices if you want to see approximately 880+ free patterns. I decided to select 6 that Daisy Farm Crafts chose that you may be interested in. I'm going to stay on the crochet side of this because of our website and main genre. Click on the picture for those patterns.
---
Daisy Farm Crafts' Patterns
Tiffany and Hannah also have patterns on her website that I think you may be interested in. I personally selected these choices that you may have missed. Click on the picture for those patterns.
---
More Ideas
More Collections