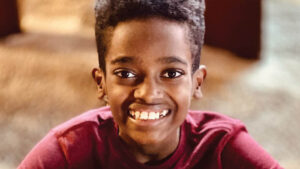 On all of the Stitch Ambassadors of Yarnspirations, Jonah is most seen in mainstream media. Over the years, through the practice of crochet and having a young mind, he's been able to have a curiosity, with us adults, at times, shut it down.
He does a great job of examining stitches and the technicalities of a pattern and is able to communicate that. Through the guidance of his mom in this yarn realm.
Back Story
Jonah entered our lives a few years ago when he had a prize ribbon for a blanket that was truly outstanding. My girls, (aka Wendy and Jeanne), noticed his posting and asked me if I had noticed the post. I hadn't but I was quite shocked, to be honest. Being a boy at his age with a craft in a female-driven craft was really tough. So I thought, here's a young man that could use a little moral support. Not that he's struggling but at his age, I definitely was.
I sent Jonah a care package of assorted yarns. In a very short time, Jonah was picked up by his local newspaper and then mainstream media got wind of his crochet skills. Jonah's fame grew really quickly with appearing on several television shows.
Daniel had an idea to talk with the VP of marketing for Yarnspirations to bring Jonah to her attention. Here's a young man that has a passion to teach online. Jonah was brought on as a Stitch Ambassador a few months later.
I've only had one conversation with Jonah and he is smart but also, as a seasoned YouTube Host, I can tell he's done his homework to learn about the yarns and stitches. Jonah has a great support team from his mom and many others who allow him to continue teaching and leave some of the heavier parts of social media. Running a social media presence and programming is a full-time job in itself. He's still a young man and needs time for his schooling.
Below, Jonah is teaching the Crochet Tippy Toes Blanket.
Teaching One Stitch A Time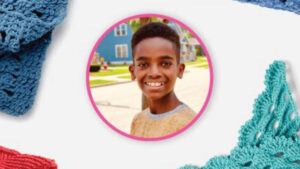 Jonah teaches in two different ways. Sometimes, he will walk a crocheter through a complete project but speaking firsthand in that format, is really time-consuming and the type of project will matter on how in-depth a host should go. At times, crocheters just need a refresher or verbal instructions.
Over the years, his videos are getting longer with more walkthroughs of an entire project
Like the other hosts such as Marly Bird, Tiffany & Hannah, Tamara and Sarah, we each present our skills in a unique way for our own community base. Yarnspirations brings us together to continue our presentations with their support.
---
6 Choices Selected By Jonah
Each Stitch Ambassador was asked to select as many choices for The Annual Holiday Guide 2021 that they felt their communities would enjoy. You can see all ambassador choices if you want to see approximately 880+ free patterns. I decided to select 6 that Jonah chose that you may be interested in. Click on the picture for those patterns.
---
Jonah's Expertise
Over the years, since the development of Bernat Blanket Alize EZ yarn, Jonah has honed his skills for this specific type of yarn. You can see several tutorials on him working on this type of yarn.
Here are Gift Concepts using Bernat Blanket Alize EZ selected by Jonah. 
Click on the picture for those patterns.
---
More Ideas
More Collections