17 Crocheted Towel Pattern Ideas
Crochet Your Own January White Sale Towels
Some might think I'm a bit strange, but I would rather shop for new towels than new clothes.  Growing up, I really enjoyed shopping with my mom at the big January White Sales.  White sales come about in the late 1800's when department stores would sell bed linens, which were only available in white at that time, at a discount.  Today, white sales revolve around many household items, and we know that we see all colors and not just white anymore.
I've always crocheted my own dishcloths, but recently noticed a whole new world… crocheted towels!  I haven't made any yet, but found some really fun patterns to try.  These are not the kind where you cut a terry cloth towel in half and just a topper.  These patterns are for full towels.  Pretty cool, huh?
So instead of shopping, I think I'll treat myself and crochet myself a few new kitchen towels.
Do you see anything on this list you are going to crochet?  Share your projects on our Facebook wall to inspire others.
Real Life Kitchen Towel – including a coordinating potholder, this towel features the moss stitch and looks just like a store bought towel.  See featured photo above.
Sweet Retreat Spa Towel – treat yourself to this lovely foot towel.
Ribbed Shaving Towel – here is one for the guys to wipe away the shaving cream.
Chevron Kitchen Towel – super easy and a great way to use up partial balls of yarn.
Contrast Kitchen Hand Towel – a pretty vertical striped towel to match your kitchen.
Not Your Granny's Kitchen Set eBook – includes a granny stitch hanging towel, dishcloth and mug cozy.  You can download without actually signing up if you wish.
Surf Hanging Towel – features a gentle wave design.
Crochet Kitchen Towel – here is a great basic rectangle towel.
Hanging Hand Towel – another pretty one that is very useful.
Christmas Candy Dish Towel – all of you who love to play with planned pooling could have fun with this one.
Crochet Kitchen Towel/Dishcloth – I love the striped of color used in this nice size towel.
Bouncy Bubbly Kitchen Towel – features the bead stitch for a nice textured effect.
Cotton Fingertip Towel – nice addition to brighten up your guest bathroom.
The Anti Cat Dish Towel – I know… strange name, but it's a nice thick waffle stitch towel.
Big Girl Kitchen Towel – this lovely piece is highlighted with some very nice texture.
Mitered Square Hanging Towel – fun project that you could grow to any size square.
Hanging Towel – hook this one up with the granny stitch and you will have a collection in no time.
Inspire, Create and Celebrate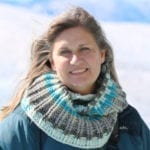 ~ Jeanne – The Crochet Crowd