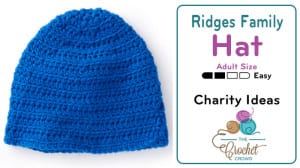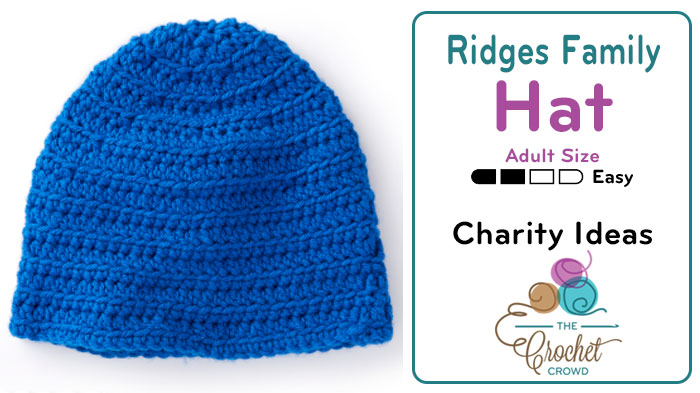 Adult Family Ridge Hat
The adult Crochet Family Ridge Hat is a great standard crochet hat with a bit of stitch variation. If you are looking to try your skills at something more than just a double crochet beanie looking hat, this is a great option.
While I was crocheting this in the video tutorial between the takes, I was having flashes in my brain of New York City. Not sure why really. But I was visioning homeless shelters, homeless people and street kids. While I get that homelessness and street kids exist practically everywhere in the world, I couldn't help but think this hat is a great option for those in need who brave the cold streets at night time.
While myself, I love bright, flashy and eccentric stitches, homelessness isn't flashy. It's part of our society and people end up on the streets or homeless for reasons that are sometimes beyond their control. We make assumptions of laziness, drugs, alcohol and victims of abuse but it's not the entire story in many cases. Sometimes it's just a family that just had really tough circumstances of job loss and surprising circumstances. A close friend of mine called me crying the other morning. It was heartbreaking and though positive thinking and trying to steer our lives in the right direction are sometimes not enough. She really hit a chord with me with a statement, "No matter what I do, I just cannot catch a break!" She pondered what she had done so bad to end up in a position she was in.
What seems to be true is that not all people are meant to be parents. Street kids can occur with peer pressure but it can also be the child trying to escape difficult times. A friend of mine in high school kept showing up with black eyes, bruises and much more. It was claimed his Dad and him were play fighting as he covered it up. He was really guarded and seemed to be a great kid. Teachers tried to intervene to offer him assistance but the repercussion of his situation of telling authorities of his situation. Where is he to run seek help? Going back 20+ years, things were covered up a lot more than they are today. This kid eventually left school without notice. He pops into my mind once in a while on whatever happened to him. Though I know his first name, I don't know his last name and never bought a yearbook to look him up. I've always been curious about what happened to him and where he is today in life. I would make a strong assumption he would have ended up making rushed decisions which could have led him to drugs, alcohol and the streets. It makes me sad when I reflect upon it.
This hat really struck me with flashes of people who are in need of human compassion where crocheters can at least provide warmth to people who we may never meet. Our stitch skills won't fix their situation but can be the difference of a warm evening or struggling to stay warm at night time or walking the streets during the day.
The pattern is included and my tutorial will show you step by step to make this hat. While it's been made with a charity in mind. Don't forget we have teenagers and people in our lives that may not be able to afford to buy a hat. This hat can be crocheted for a loved one in your life as well.


Pattern Suggestions
Video Tutorial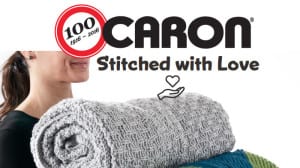 Stitch it Forward
Yarnspirations has released their latest Lookbook called Caron, Stitched with Love. The book of free patterns for both knitters and crocheters has one central theme, charity. It focuses on simple projects and some that require a bit of knowledge of crochet. Personally, I love how the Lookbook allows new crocheters to learn new skills but also for the ones who have some skills to go a step further. Not only is this book charity oriented, but it also a great starting point for crocheters and knitters to do something more than practise with stitches. It will allow them to learn, grow and contribute to their own community with the projects they create.
The project above is from this Lookbook. This article is one specific pattern and I have a tutorial that matches it for those who need an extra helping hand with the instructions and skills needed to complete the project.
Some Hat Patterns
More Charity Pattern Ideas