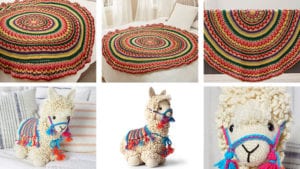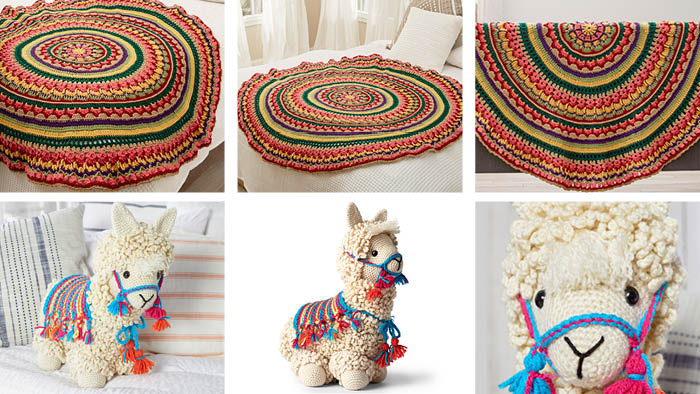 Stitch Alongs
For 2020, we are launching one stitch along the day after Christmas. Yes, that's right on Boxing Day, as we call it here in Canada. I was turned onto this pattern by Yarnspirations as its a Mandala and the diagrams are already completed. While some crocheters have already completed this project, this is a perfect time to add another beautiful project to our video education library.
For March, we are teaming up with JOANN for another Stitch Along. We are NOT using Bernat Blanket this time and the design is definitely an intermediate level. I've not seen the final picture yet but I hear it's going to be a doozy! Hold onto your seat belts folks!
Click the SAL to Auto Scroll Down
For summer, we are back in summer school once again with another Study. This is the Study of Christmas Giving. It's a design created by both Jeanne Steinhilber and myself. We have been tossing the afghan back and forth to create the design. We are still working on the design but it's really pretty awesome thus far! Join us in the summer.
For other stitch alongs, we are not confirmed for anything further but you never know what creeps up. We usually have a JOANN Stitch Along Fall but we won't know about that until Spring.
[sta_anchor id="mandala" /]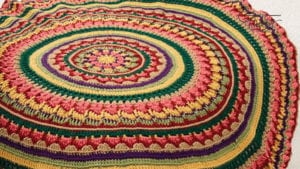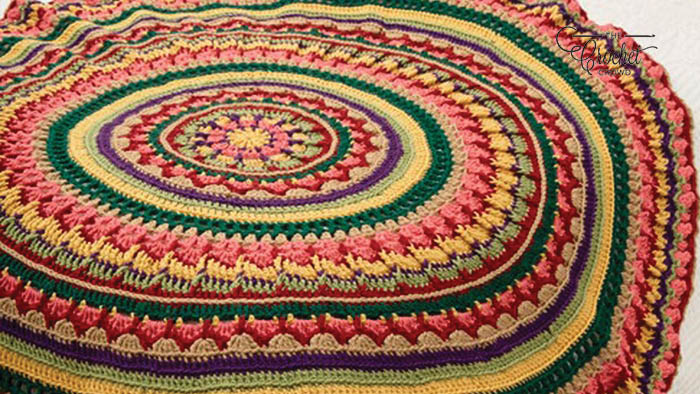 Crochet Mandala Stitch Along
We are kicking off 2020 just a week early on Boxing Day, Dec 26, 2019, with the Red Heart Mandala Throw Pattern.


Technically speaking, the pattern is already out in the public domain through Yarnspirations.com. So crocheters can start at any time but the video tutorials will be timed to match the crochet along schedule. We do larger projects in increments as more people can have a success story when we work as a community together.
It's time now to choose your colours and get yourself ready. We will have prizes for finished examples. If you have already done this throw, you can still qualify as you put in the work already.
Playlist Tutorials for this Series
Mandala Worksheet - 2 Pages
To help with this amazing throw, I have made a worksheet that will help you get started. You can download/print the worksheet to use at any time. Page one has tips and marking in which colours you have selected. Page 2 has what Mikey will be using plus an empty colouring book-style option to draw in your own colours to test try ideas.
Alterations
I ran out of yarn using Bernat Super Value for Round 48. I frogged and

subbed C for B

. It's the only round I went out of colour sequence. I looked at remaining ball colours and the last two rounds left and determined I didn't need to buy more yarn, I just used what I had.

Colour B is actually Navy.

I have Marine on PDF but that is French for Navy.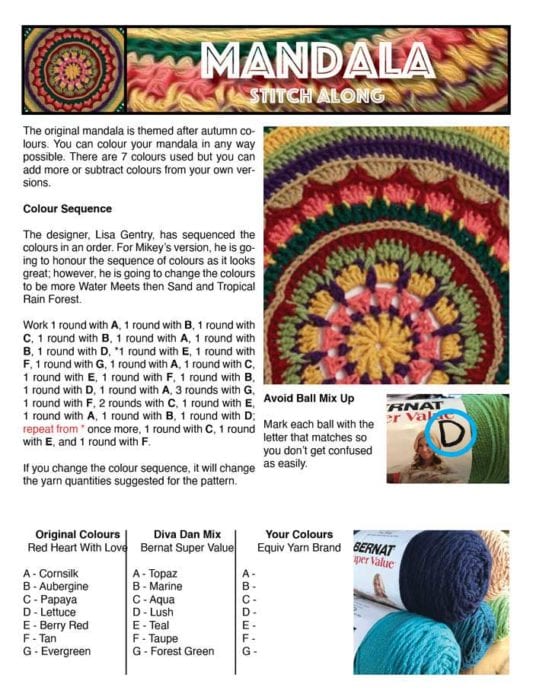 Tutorials
A brief introduction to what a mandala is.
Mikey will provide the tutorials in 4 weeks starting on Dec 26th. Crocheters will learn how to read the diagrams and be able to follow on camera.
Do yourself a favour and do the gauge test. If your afghan isn't sitting down at some point and you never ran a gauge test, you may just regret getting started. See the worksheet for tips. Mikey will have a gauge testing video in the future for this as well.
[sta_anchor id="llama" /]
---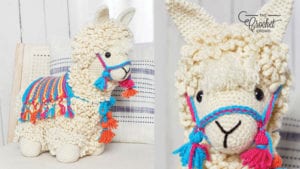 Llama-No-Drama Stitch Along
The Llama-No-Drama is an excellent crochet artistry amigurumi example from Yarnspirations. Designed by Nancy Anderson for Red Heart.
This a HUGE pattern and the best way to attack a great pattern, such as this, is to go step by step in increments. There is learning opportunities with this one that includes the Fur Stitch repeat pattern.
Upon review, this adorable and sure to get your friends and family members looking at you as an artist will surprise you on how big this is. It's 14.5" tall x 11" long. It's not a stuffie to get stuff between the cracks of the could.
To prepare for this stitch along:
1 Pair, 15 mm pure black safety eyes.
Stitch Markers.
Stuffing. It's pretty big, start with 1 small bag of stuffing and buy more at a later date, if you need it. You will want to stuff this firmly.
A mini box to store your supplies as you crochet this as you will have animal parts being created to assemble later on.
You may want to buy an umbrella as your friends may shower you with compliments. 
Currently
I am currently reviewing this pattern and determining how to splice it up into manageable sizes. The date is still not firm yet but will be at the beginning of 2020. As early as January.
I am sure some of the parts may be a challenge that could create drama but hey, you are crocheting a Llama-No-Drama. So just hook to it and let's hook up our very first adorable llamas.
The complete pattern is available to start at any time. The point of the stitch along is to break up the pattern so the entire community is stitching together.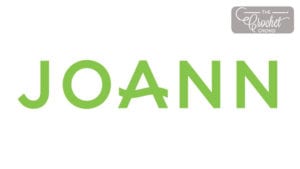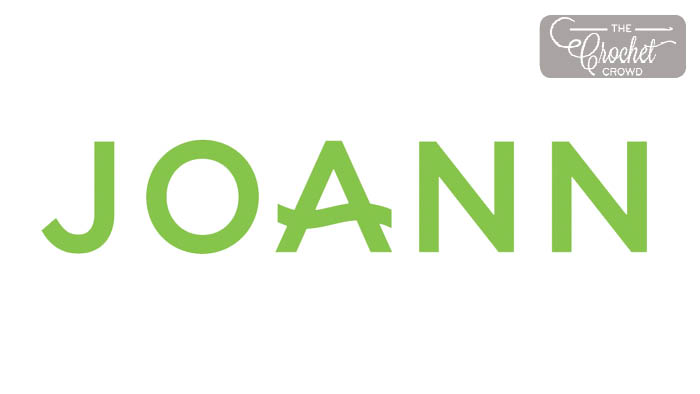 The Next Stitch Along with JOANN - March
This past week, I got a conceptual glimpse of the next Stitch Along with our friends at JOANN Fabrics and Crafts. The original afghans for JOANN are designed by the design team of Yarnspirations for JOANN.
With each stitch along, we learn about the wishes of the crocheters on what their hopes and dreams are for learning stitches and concepts. I am asked feedback and things I see crocheters commenting on. So for the next Stitch Along, I was hoping that they can step up the challenge. Oh boy, did they deliver!
I've not seen the finished afghan, I just know the conceptual idea. Here's what I know though:
It's not a motif based project.
It's not using Bernat Blanket.
It's absolutely conceptually really neat! It has the power to open up gateways of opportunities of further learning with the concept in the future.
Just when I think I know most concepts, it's nice to see there's more to learn.
Daniel says, "Oh dear gawd, how are you going to teach that!?" I answered, "I don't know but I am excited about it!"
We may plan a preview tutorial conceptual wise so it's not completely new when it goes out.
Scheduled for release in Mid March. Tutorial and prep work for me starts in January with full video reviews by the end of January for our friends at JOANN.
I'm super excited about it. I hope you are too!
Study of Christmas Giving
For our summer stitch along, it will be the Study of Christmas Giving. Both Jeanne and I are tossing the afghan back and forth between us to add in our own elements. Currently, the afghan looks fantastic but is still not finished in design.
We are waiting for yarn suggestions from Yarnspirations to do a final sample once the design is ready to try.
Past Stitch Alongs